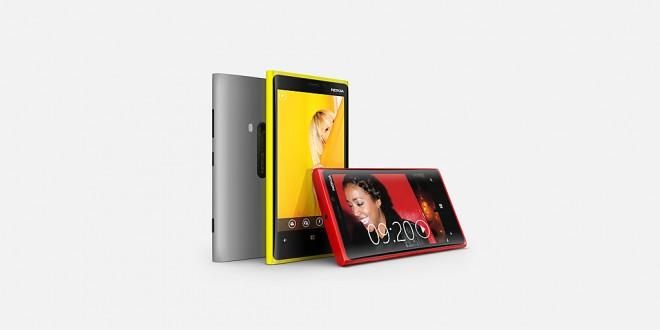 Say hello to the two newest Windows Phone 8 powered Nokia Lumia devices and their beautiful designs. Starting with the Lumia 920, Nokia's new flagship Windows Phone 8 smartphone includes Pureview technology capable of taking photos in five times more light than competing smartphones.
As anticipated, the new Lumia 920 sports a 4.5″ 720p display, 1.5GHz Snapdragon S4 processor, 2,000mAh battery, PureMotion HD+ screen tech which Nokia says is "better than HD resolution."
Nokia's hardware is in a word, "beautiful" and both devices introduce Qi's wireless charging as a standard technology. All it takes to charge both the Lumia 920 and Lumia 820 is setting it down on a "Fatboy" charging pillow. If wireless charging isn't your thing, both devices include microUSB charging for the "old-fashioned" way of getting juice to your devices.
The most notable feature of the Lumia 920 is the Pureview sensor tucked inside an 8.7 megapixel camera. Nokia's Jo Harlow calls the Lumia 710 the "best smartphone camera" out there. Nokia is also building up the excitement for it's PureMotion HD+ screen tech along with their ClearBlack technology also found in the Lumia 710, now available on T-Mobile.
Another big step forward for both devices is the addition of a Synaptics ClearPad 3 sensor that allows you to use the capacitive touchscreen with gloves on, literally. During the live demonstration, Nokia demonstrated using the device with mittens on and it worked perfectly. In other words, the screen reacts to more than just direct skin contact, recognizing both fingernails and gloves.
Not to be outdone is the Lumia 820, which doesn't offer as many high-end features as the flagship 920, but is easily one of the best mid-range devices spec wise comparatively. The Lumia 820 sports a 4.3″ 800 x 480 display with the very same screen technology as the Lumia 920. The Lumia 820 will not carry the PureView branding, but still comes equipped with an 8 megapixel with dual flashes and 1080p HD recording. It is also powered by the same 1.5GHz dual-core Snapdragon S4 processor, 8GB of storage and a microSD slot.
The Lumia 820 will come in an array of colors which includes purple, cyan, red and yellow along with the ability to exchange shell covers. The Lumia 820 is said to be the device destined for T-Mobile, though pricing and availability are still unknown. Nokia Maps and the new City Lens app are also included, which uses augmented reality to show nearby points of interest including restaurants and is available on both handsets.
Both devices will come in LTE and HSPA+ equivalents and given that T-Mobile's refarm should be well underway but the time both of these devices launch, even if the Lumia 920 isn't subsidized through T-Mobile, there's always the unlocked route.