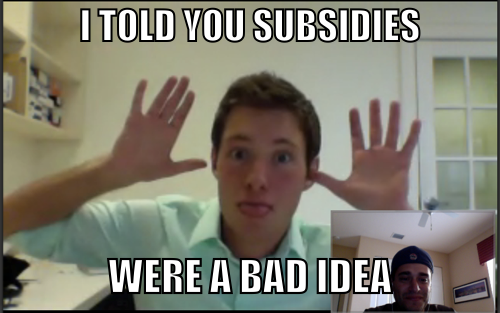 T-Mobile's efforts to cut subsidies amid trim margins have often been looked at it with shrugged shoulders by the larger carriers, at least while they weren't looking at the same slim margins as T-Mobile USA. Now, Both Verizon and AT&T, the nation's top two carriers are starting to scale back their own cheap upgrade offers to devices such as Apple's iPhone and other smartphones.
In the hopes of lessening handset costs, AT&T has doubled their upgrade fees to $36 for existing customers and lengthened the period customers must wait before receiving new subsidies on handsets. For its part, Verizon introduced a $30 fee in April for customers buying new smartphones and Sprint charges an $18 upgrade fee plus an extra $10 monthly smartphone charge.
So why is this a big deal for T-Mobile? It means that T-Mobile isn't forced to compete with pricing on handsets, as is the case with the Galaxy S III which saw T-Mobile price their own model almost $80 higher than their nearest rival. So what was behind T-Mobile's decision to hit that price point? Well, it all comes down to dollars and cents as T-Mobile is looking to support their existing margins which have led to costs from handset subsidies dropping 42 percent in the first quarter of 2011. Money that isn't being spent subsidizing handsets can go back into the network and that's a good thing for everyone.
What is often ignored by the consumer is the toll profit margins take on company's bottom lines because of the losses taken on selling customers equipment with two-year contracts. Rest assured, those costs are passed on to you in the form of higher monthly costs, fees and data rates. The flip-side is that smartphones, such as the iPhone are very lucrative in the long run as customers begin to surf the web, email and watch videos which all leads to increased data plan sign-ups.
So what do you get with T-mobile? How about lower up front fees and lower monthly rates — in other words, your immediate costs as a T-Mobile customer are still less than that of their larger competitors, even with higher subsidy rates. The problem is how long can T-Mobile sustain this momentum of lower subsidies if the competition reverses their current fee and cost structure? If the tide suddenly turns against T-Mobile while customers are dropping by the quarter, it would pose a very serious problem for T-Mobile as they work to turn their own place around.
"T-Mobile is probably in the worst position among all U.S. players even if the overall market is getting better," he said. "Are subsidy cuts sustainable? It only works if everybody agrees to it."
The bottom line for the industry is they still have a lot of work cut out to explain why subsidies are bad for everyone, including the sticker shock for customers and the slim margins for the carriers. Just remember, higher subsidies equal higher pricing and lower subsidies equal lower pricing. I know it feels like a minority position, but I'd rather much pay more up front for the cost of the phone and pay less per month. How about you?