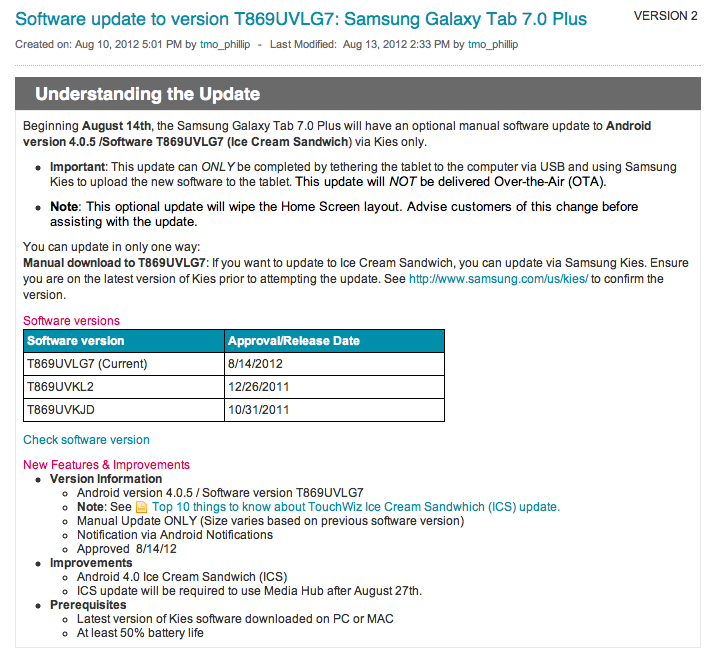 Good news this morning as T-Mobile is set to update their edition of the Samsung Galaxy Tab 7.0 Plus to Ice Cream Sandwich. Unfortunately, the update requires Samsung's Kies software to complete the download, so no sitting back and waiting for the OTA. The change-log highlights all the various Android 4.0 Ice Cream Sandwich improvements, and Media Hub's need for ICS after August 27th. So don't wait to long to grab this update.
In a move that has both our friends at Android Police and us, T-Mobile says the Galaxy Tab 7.0 Plus will receive Android 4.0.5?! We assume, and we believe safely so that this is someone hitting the wrong key, but Android Police received a statement from T-Mobile claiming it was correct:
Thanks for asking! According to the information provided, the device will be updated to 4.0.5. If this ends up being incorrect info, I'll make sure to update the document accordingly.

Thanks again for making sure our information is correct.
So, you know, still probably an error and it'll be corrected at some point today. Either way, if you're a Galaxy Tab 7.0 Plus owner, today will be a good day. Hit the T-Mobile link below for instructions on how to perform the manual upgrade via Samsung's Kies software.