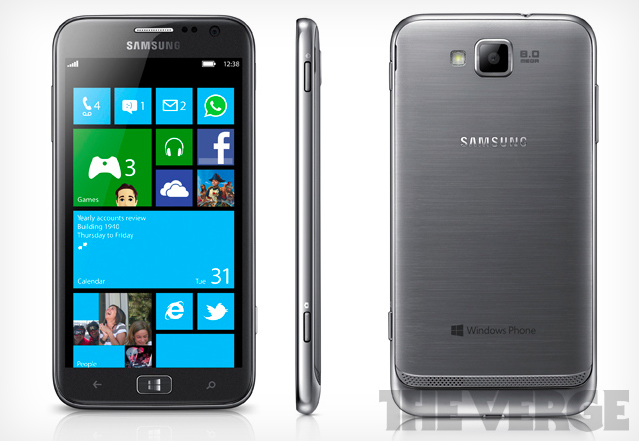 With Samsung's IFA event taking place in just under 2 hours, we're likely to get official confirmation on their upcoming Windows Phone 8 devices, but thanks to an anonymous source, The Verge is outing their upcoming ATIV S.
The 4.8″ smartphone caught our eye as the specs match up with the upcoming T-Mobile Windows Phone 8 LTE device from Samsung. It's possible this isn't T-Mobile's upcoming device, but given that our most recent intel that called for the future T-Mobile device to feature a 4.8″ screen and here we are now staring an image of such a device, we're making a loose connection.
The ATIV S features a 4.8″ HD Super AMOLED display, 8-megapixel camera, 1.5GHz dual-core processor, and a 1.9-megapixel forward facing camera.
Samsung's Unpacked event takes this afternoon, so hopefully we'll find out everything we want to know about this device and hopefully a list of carriers it'll arrive on.