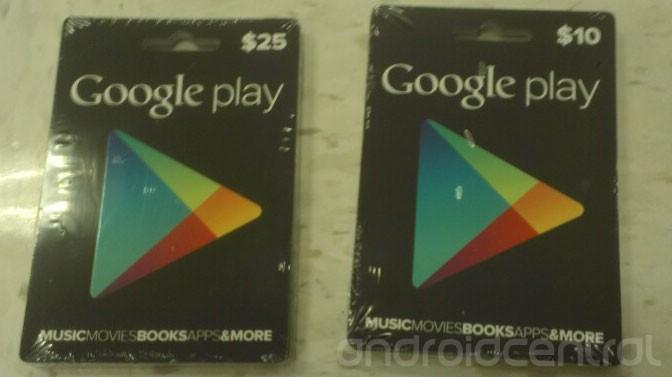 All I have to say about this is —- finally, FINALLY Google is set to unveil gift cards for the Google Play store. Gift cards are something that Apple has long since done for iTunes and is long overdue for Google's own app store, thankfully that's about to change.
First things first though as Android Police dove into the new Google Play store v3.8.15 APK and uncovered the first bit of evidence that Google is set to unveil gift cards and wishlists. It appears that the url play.google.com/redeem is the likely destination for adding and redeeming gift cards, though at the moment the page returns a "404 page not found" error.
What's more is the boys at Android Central were sent images of the actual gift cards themselves. Or at least what appears to be an outer wrapping showing increments of $10 and $25, branded for Google Play, with "Music Movies Books Apps & More" at the bottom.
For now, the gift cards seem to be very close to launch, but the actual details about the launch are unknown. Who will carry these? In what increments will they be available?  Most important, where will they be available? Will they be US only at launch? These are questions we need to know Google!
Still, if you've been holding out for wishlists and Google Play gift cards, you're about to get your — wish.
Android Police, Android Central