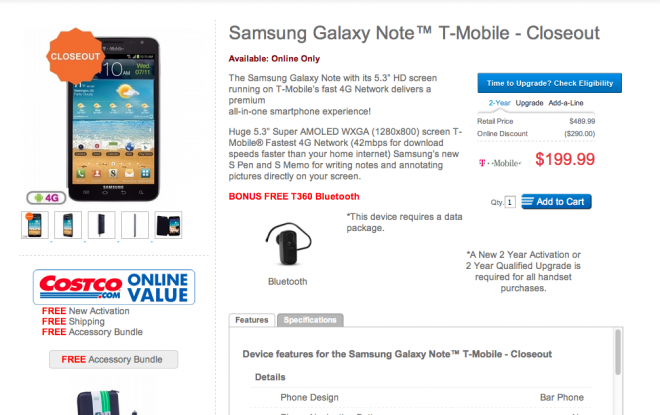 Update: T-Mobile sent out a brief statement regarding the availability of the Galaxy Note: 
"The Samsung Galaxy Note is currently out of stock online via www.T-Mobile.com however the device is still available for purchase at select T-Mobile retail stores."
Ok, so now this is getting a little more mysterious as Costco.com now has the Samsung Galaxy Note for T-Mobile on closeout. This is after the Galaxy Note disappears from T-Mobile's website, yet remains available for sale on BestBuy.com, and direct from Samsung's website. We tried to order the Galaxy Note over at Wirefly.com, and came up with a nice error message:
"The offer you selected is no longer available. Below is our most popular package for your area. You may also update your selection using the links below."
So, what gives T-Mobile, where has the Galaxy Note gone? I've pinged T-Mobile with the hopes of someone getting to the bottom of this. The real question now is — is this indicative of T-Mobile moving on the next model in the Galaxy Note series? We honestly can't say, but we are a little curious about why a device would disappear just after launch?