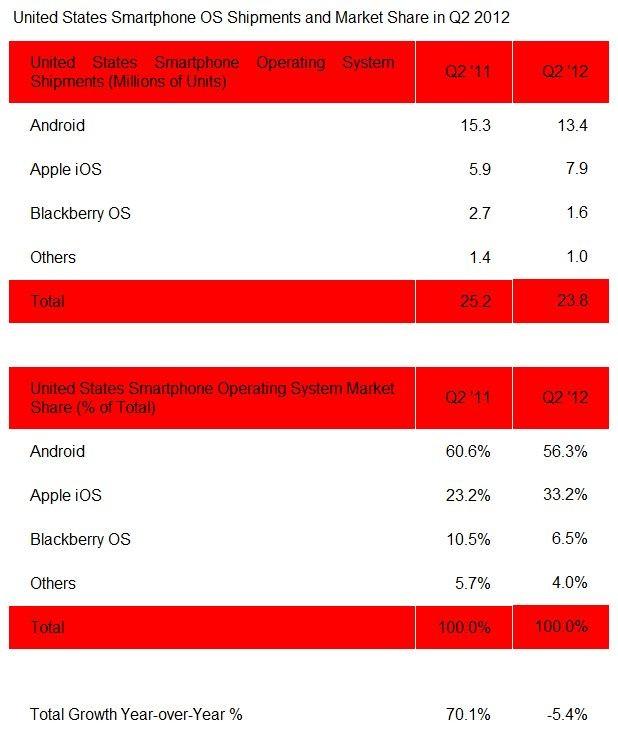 While Android continues to dominate the US smartphone market, its grip slipped a little in the second quarter of 2012 as it dropped below 60% marketshare. Android's drop to 56.3% of all smartphones in the US was noticeably different from the 10% jump Apple's iOS platform posted, up to 33.2%, up from 23.2% in the second quarter of 2011.
Neil Mawston, Executive Director at Strategy Analytics said:
"We estimate Android shipped 13.4 million smartphones for 56 percent share of the United States market in the second quarter of 2012. This was down from 15.3 million units shipped and 61 percent share a year earlier. Android remains the number one platform by volume in the United States, but its market share is approaching a peak and Apple iOS has been gaining ground. Apple's US market share has risen by ten points from 23 percent in Q2 2011 to 33 percent in Q2 2012. Apple is rumored to be launching a new iPhone in the coming weeks, and that event, if it takes place, is going to heap even more pressure on Android in its home market."
For its part, Blackberry's drop from 11% to 7% over the last year marked its lowest level in recent history.
Anyone else notice that Windows Phone didn't even call for a line on Strategy Analytic's report? I wonder why, we know their marketshare hovers in the single digits, but why skip out on them entirely?
View the entire Strategy Analytics report here, subscription required.
Fierce Wireless; Image: IbITimes