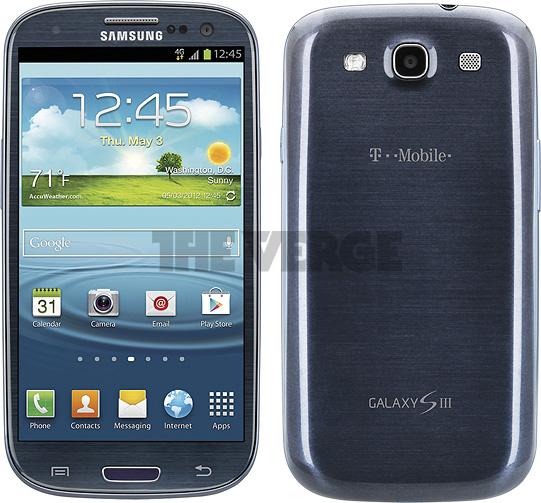 The Verge has just received what are purported to be T-Mobile's USA branded Galaxy S III press shots, expected to be announced officially by Magenta in the coming weeks. The immediately notable part of these images isn't what's changed, it's what hasn't. In fact, these shots show that T-Mobile has picked up a almost identical model to the one being used internationally, a major change from years past when US manufacturers often requested large changes from their international counterparts.
For example, North American Galaxy S and S II variants famously asked for the removal of the physical home button in favor of a full row of four capacitive buttons. Still, we've got both blue and white here, seemingly confirmed our own intel that T-Mobile will receive both colors. No word on pricing or availability, but we have to take this as a sign that we're getting close to something.
Honestly, I'm a little skeptical of these images myself. I do have a hard time believing T-Mobile wouldn't ask for a single change in the device and the only branding is an easy to fake logo on the back. More importantly, T-Mobile press images almost always include some sort of T-Mobile branded apps, be it T-Mobile TV, My Account, Pre-installed Games etc. So, take these with a grain of salt as I'm a little skeptical.