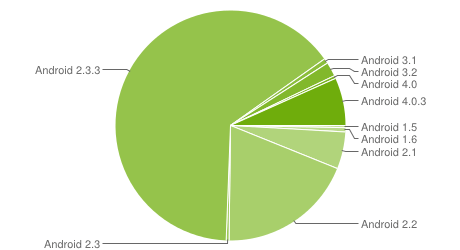 Google's just released their newest set of Android OS distribution stats and we're happy to see a small bit of growth for Ice Cream Sandwich is it now powers up to 7.1% of all Android devices. That's an increase of 2.2% from May, which saw just 4.9% of all Android devices running on Ice Cream Sandwich. It's likely that the release of HTC's One X, S and V smartphones, plus a few carrier updates are responsible for the jump in May. Making up the lions share of Android devices is of course Gingerbread, now making up 65% of all Android devices, up 0.6% from May. Froyo, surprise, surprise makes up 19.1% of all Android devices leaving Cupcake, Donut and Eclair with a combined 6.1%. Honeycomb, the tablet-only OS saw its marketshare drop to 2.7%, down from 3.5% in May.
The takeaway here is that Ice Cream Sandwich still has lots of room to grow, of course we didn't need to tell you that as any number of you are waiting for your own Ice Cream Sandwich update on your respective smartphones. With Google I/O later this month, we're likely to hear more about Google's next Android iteration, Jelly Bean. Hopefully but the time Jelly Bean is launched, we'll see Ice Cream Sandwich marketshare rise well into the double digits.
Of course, you Galaxy S II users just got your own bit of good news as T-Mobile announced June 11th as Ice Cream Sandwich day for your smartphone. Happy happy joy joy.
MobileSyrup via Google