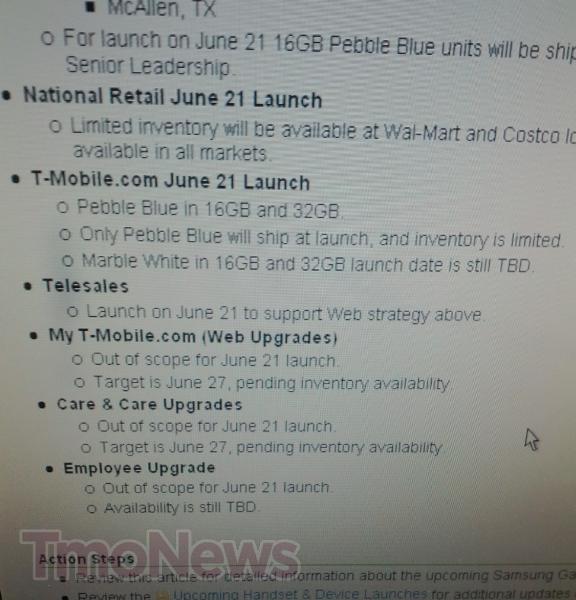 Yesterday, we saw the unofficial word that T-Mobile's Galaxy S III launch was getting broken up into two parts, along with Sprint's due to heavy, heavy demand on Samsung's part. With the news that the launch was being broken up, plenty of questions have arisen on the specific launch details of both the 16 and 32GB sizes along with the colors themselves. I believe we have our answer in the image above, unofficially of course as we await official word from T-Mobile about the launch.
For now, we'll try and break it down with the most important channels for purchase:
National Retail Launches: Limited inventory at Walmart and Costco beginning June 21st at all locations
T-Mobile.com June 21st: Pebble Blue in 16 and 32GB sizes, only Pebble Blue ships at launch, Marble White in 16GB and 32GB launch details are to-be-determined
myT-Mobile.com: Target is june 27th for availability , pending inventory levels
Telesales: Said to have "higher" levels of inventory
Along with availability comes lingering questions about price, which is still said to be listed at the prices found in the image below. While it's certainly possibility that T-Mobile could listen to immediate feedback and make last-second decisions on price, for now I'd go with the unofficial pricing details below.
As with everything else, these details are all current until we hear official word from T-Mobile itself.