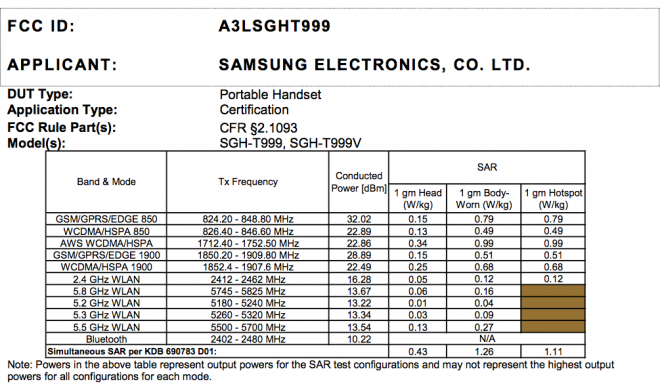 All signs are pointing toward the SGH-T999 (Galaxy S III) heading to T-Mobile as the newest piece of evidence surfaces in the form of FCC approval. Here's the one notable takeaway from this, no LTE is coming in this particular model. The documents do show WCDMA support for T-Mobile's AWS band, just as we expected to see. There's also support for the 850 and 1900 bands meaning this device will be ready to rock under T-Mobile's refarmed 4G network as well. The lack of LTE connectivity isn't surprising given that T-Mobile isn't expected to launch their LTE network until sometime in 2013, but we had hoped that Samsung and T-Mobile would forward think given that T-Mobile's AWS LTE network will pair up nicely with AT&T's own LTE 1700 bands.
NFC (near-field communication) is on board, but we don't know how much support T-Mobile will offer for this feature, though we hope Google Wallet support is a possibility. Other than that, we're not seeing any other surprises here, good or bad.
All in all, this early FCC report seems fairly standard — so now we wait for T-Mobile to make an official announcement.