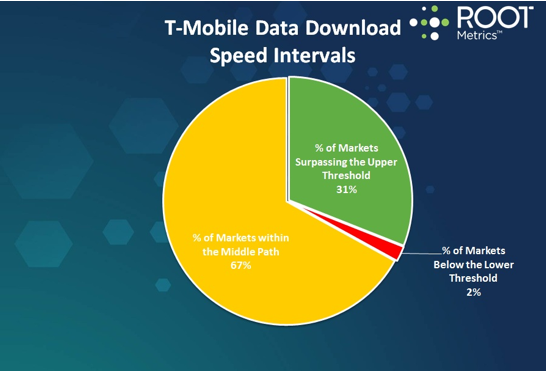 Hey HSPA+ 42Mbps doubters, RootMetrics says learn to love your T-Mobile 4G network because it's pretty damn good. According to their study, T-Mobile is closer to AT&T's LTE network than you might expect and definitely belongs in the top tier with Verizon's and AT&T's LTE networks. Their most recent study took a look at 42 markets for a combined 320,000 drive and indoor location data tests, using off-the-shelf consumer phones you can already buy from your carrier.
In order for a carrier to qualify as above the "upper threshold" in each market, the carrier had to deliver download speeds above 3Mbps in at least 70% of the tests for a given market. At that speed, it would take 10 minutes or less to download a 30-minute television show in standard definition and 10 seconds or less to download a music file. The "lower threshold" shows a carriers download speeds of at least 1.5% in at least 60% of the tests in a given market. The "middle path" indicates the percentage of markets in which a carrier neither exceeded the upper threshold nor fell below the lower threshold.
While AT&T may have performed in the upper threshold in 18 total markets, T-Mobile did so in 13 markets. Both carriers were blown away by Verizon's scores in 36 of the 42 test markets but considering T-Mobile has yet to roll out a LTE network, the RootMetrics study felt: "T-Mobile's HSPA+42 network might present an interesting choice for those looking for an alternative to AT&T or Verizon."
As for Cricket, MetroPCS and Sprint? They didn't even close to the scores obtained by AT&T, Verizon and T-Mobile. Sprint fell beneath the lower threshold in 23 out of 42 markets for a percentage of 55%.
So how did RootMetrics rank all the carriers?
Verizon continues to excel
AT&T is making strides but is still clearly in 2nd place
T-Mobile quietly performs strongly
Sprint is falling behind
MetroPCS offers some intriguing possibilities
Cricket stands alone at the bottom
Read the full report below: