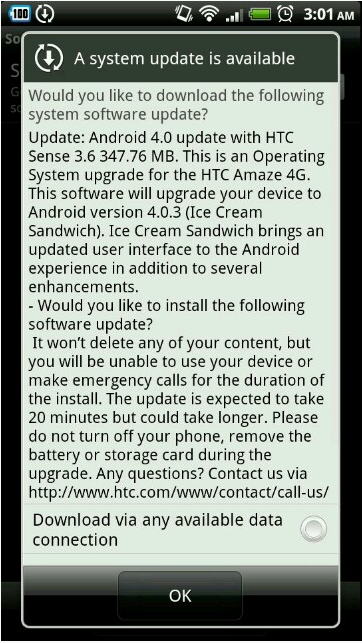 Today's the day as Ice Cream Sandwich is now available for HTC Amaze 4G owners everywhere. Actually, it's been available for a few hours already so keep an eye on your phone for a software update notification. T-Mobile will be sending out updates over-the-air or you can follow the steps to try to push the update out right away:
Connect to Wi-Fi for fastest download.
Note: This is a large update and can take over 20 minutes if downloading over the GSM network. Connect to Wi-Fi before updating for best results.
From the Home screen, press the Menu key.
Touch Settings.
Touch About phone.
Touch HTC software updates.
Touch Check now.
Follow the on-screen prompts.
Wait as your phone restarts and updates to Android 4.0.3 / Software version 2.14.531.3710RD
What changes does Ice Cream Sandwich bring for Amaze 4G owners?
Android version 4.0.3 / Software version 2.14.531.3710RD – Current version
Version
Android version 4.0.3 / Software version 2.14.531.3710RD
Approved 5/21/2012
New Features
Android 4.0 (Ice Cream Sandwich)
Sense 3.6
System bar enhancements to easily view recent apps.
Re-sizeable widgets
Lock screen actions including pull down notifications and adjust volume while device is locked.
Data usage controls.
Face Unlock
Home screen folders
Improved battery life
Improvements
Improved text input and spell checking
Improved menu structure