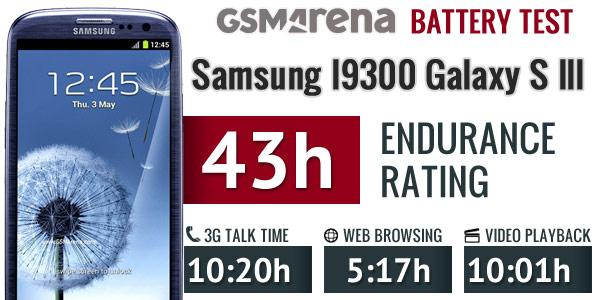 The boys at GSMArena have posted their first set of battery life test results for the Galaxy S III. With a huge 2100mAh battery and powered by a 4.8″ Super AMOLED display, there have been plenty of questions about how well the Galaxy S III will stand up in the real world.
With 3G talk time, the Galaxy S III put up some pretty amazing scores, surviving for a whopping 10 hours and 20 minutes of constant talk on a single charge. That's among the best we've seen on a smartphone, unless you count the DROID RAZR MAXX and it's 20 hour and 24 minute talk time on the same test.
When it comes to web browsing, the Galaxy S III lasted 5 hours and 17 minutes, which throws it right in the middle of the pack. There are plenty of smartphones out there that show up the Galaxy S III in this test however, including the Galaxy S Blaze 4G, HTC One V and of course the DROID RAZR MAXX. Among the other devices that best the Galaxy S III here are a number Windows Phone (including the HTC Radar 4G) and iOS devices.
For video playback, the Galaxy S III returns to the top of the pack, again only getting beat out by the DROID RAZR MAXX with 10 hour and 1 minute of battery. That's 10 hours of continuous video playback to drain almost 90% of the battery.
All in all, I think we can safely say the Galaxy S III has battery life that will easily last you a single work day, which for us hardcore smartphone users is all we really need. I don't know about the rest of you, but I'm automatic about charging my phone every night before bed and I bet I'm not alone in that. Now all we need is a release date on T-Mobile. That's not asking too much is it?