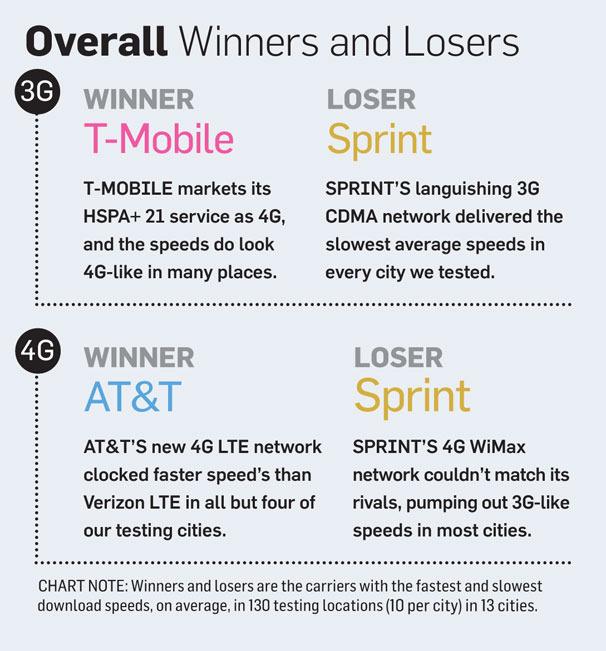 T-Mobile and AT&T have taken top honors in PC World's most recent 13-city study breaking down the speeds of the nation's top four wireless carriers. The study involved "snapshot measurements of wireless service in 13 cities — Atlanta, Boston, Chicago, Dallas, Denver, Las Vegas, Los Angeles, New Orleans, New York, San Francisco, San Jose, Seattle and Washington, D.C."
T-Mobile's HPSA+ 21 network took the crown on the 3G side, reaching average download speeds of 3.84Mbps across all test markets. AT&T's HSPA+ network, categorized as 3G by PC World for this report came in a close second with average download speeds of 2.62Mbps, followed by Verizon's 1.05Mbps and Sprint's score of 0.59Mbps.
AT&T's 4G LTE network delivered the fastest download speeds of 9.56Mbps when compared with Verizon's LTE network score of 7.53Mbps, T-Mobile's score of 5.54Mbps and Sprint's WiMAX score of 2.81Mbps.
The PCWorld test used a HTC Amaze 4G and bested the competition for 3G scores in every city except Dallas and Chicago. T-Mobile's HSPA+ 42 service was "extremely consistent" averaging between 3-5Mbps for downloads in all 13 cities PCWorld tested.
"Nearly 50 percent of our 4G data traffic is video streaming, and growing, which shows our customers have really embraced the T-Mobile 4G experience," says Mark McDiarmid, T-Mobile's vice president of engineering.
Overall, T-Mobile's HSPA+ 42 network delivered a 13 city average download speed of 5.53Mbps versus 9.12Mbps for AT&T's 4G LTE and 7.35Mbps on Verizon. T-Mobile blew away Sprint's 4G WiMAX scores of 2.8Mbps average in all 13 cities.
T-Mobile's HSPA+42 performed a little worse on the upload side of things, with a 13 city upload speed of 1.32Mbps, well below Verizon's 5.86Mbps and AT&T's 4.91Mbps.
The results of our tests suggest that T-Mobile isn't just the "low-cost leader," either; its data service rivals those of AT&T and Verizon. The fact is that many (though not all) consumers can save money with a T-Mobile plan–and get good data service, too.

"The big winner here is T-Mobile," says Sanford Bernstein's Moffett. "If you can get past the '4G versus faux-G' hurdle, T-Mobile's network offers very good value for the money."
While T-Mobile might be overlooked, its "challenger strategy" with lower-prices, more flexible plans and a fast 3G and 4G HSPA+ 42 networks, show's it's consistently strong across the board. The PC World full report is below and it's a great read, I'd suggest hitting up both links.