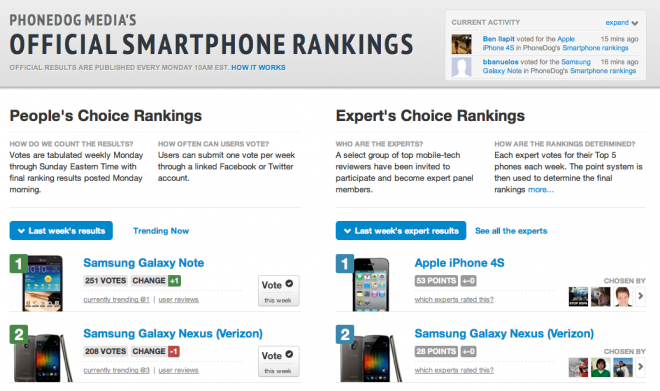 Update: Quick reminder for all your Android hackers out there, you can make the AT&T Samsung Skyrocket work on T-Mobile's HSPA+ bands if you follow the steps laid out by XDA Developers.
If the 2000 Presidential election taught us one thing, it's that every vote counts. With that in mind, I want you, TmoNews readers to help show PhoneDog's "Official Smartphone Rankings" who is boss and put a T-Mobile phone in the top 5. I can't do it alone and so I need your help — and now there is a bigger incentive to vote.
PhoneDog is counting down to 5,000 votes by you, the readers and lucky number 5,000 will win a brand new Samsung Galaxy S II Skyrocket. I know what you are saying, "it's an AT&T device, who cares?" Yeah, I'm with you, but that's what eBay is for. All you have to do is cast a vote and you're entered to win. So enter and help me get a T-Mobile phone in the top 5 and maybe win something for a moment of your time.
To vote, check out the Official Smartphone Rankings page, and good luck!
Here's how it works:
Voting dates: March 26th thru Sunday, April 1st 11:59PM Eastern Time
Eligibility: Anyone that voted and is 16yrs or older with a valid facebook or twitter account, (minimum 10 friends/followers)
Goal: 5000 Votes must have been submitted in the OSR ranking
Prize: Samsung Galaxy S II Skyrocket courtesy of our friends at Best Buy Mobile
Drawing Day and Place: Tuesday April 3, 2012 – Live at ustream.com/phonedog (Hosted by Aaron)