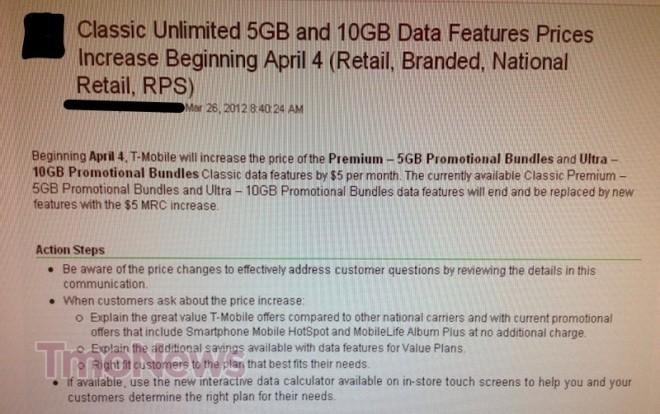 Beginning April 4th, T-Mobile will increase the price of the Premium 5GB Promotional Bundles and Ultra – 10GB Promotional Bundles Classic data features by $5 per month. The currently available Classic 5GB and 10GB promotional bundles will be replaced with new plans and a $5 monthly rate increase.
This price will not affect any customers who have added the 5GB or 10GB promotional bundles prior to April 4th.
There is no change to the price of the Value Plan data features.
T-Mobile is enacting the price change in order to better align Classic and Value plan pricing which will help them achieve Value mix targets and the company's financial goals.
Customers can continue to save at least $15 per month with T-Mobile's Unlimited-Premium Classic feature compared to similar features offered by competing national wireless carriers.
T-Mobile will continue to offer the promotional offer on both the Unlimited-Premium 5GB and Ultra – 10GB Promotional Bundles features that include the Smartphone Mobile Hotspot and MobileLife Album Plus services at no additional charge. That's a $19.98 value.
In my eyes, this is an obvious move to drive customers into the hands of waiting Value Plan opportunities, which is a good thing, if you understand the Value Plan inside and out. For the company, the Value Plan doesn't offer the same razor-thin margins as the Classic Plan. For the consumer, you save money on your monthly costs if you can swallow the idea of purchasing a phone at full price, over the course of 20 months. It's scary, it's frightening and it seems crazy, but in the end, it's likely saving you a good deal of money.
So what's next? A possible scenario that includes T-Mobile continuing to make Classic Plans unappealing thereby driving customers into Value Plans, which again, isn't necessarily a bad thing. For customers already used to purchasing full price equipment, nothing really changes. For customers who aren't used to buying full price equipment, Value Plans remain frightening and confusing. We get that, we really do. Given that, T-Mobile's next step needs to be a concentrated effort promoting Value Plans in a way that is in plain and simple language. Do a YouTube video, post it on the website, on the YouTube channel and social media pages and walk customers through Value Plans step by step. Explain the savings, highlight common fears and touch on them, break down Value Plans against the competition and maybe, just maybe some customers will see the light.