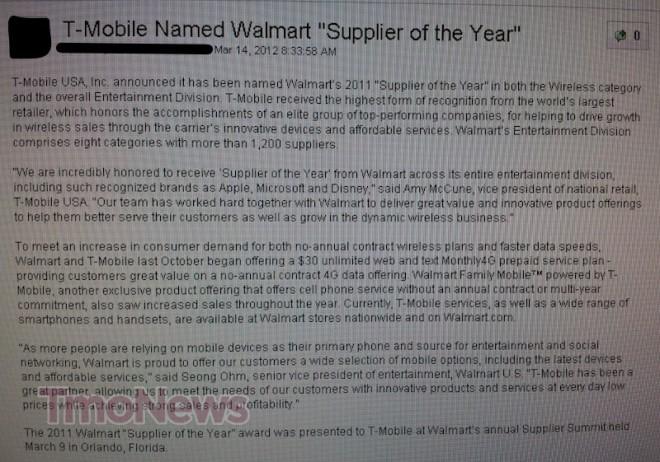 A big congratulations for our beloved carrier T-Mobile as they have been named Walmart's 2011 "Supplier of the Year" in both the wireless category and overall entertainment division. T-Mobile was recognized with the retailer's highest honor for supporting sales growth with the carriers innovative devices and affordable services.
It's nice to see T-Mobile receiving recognition, especially in light of some recent pitfalls in the world of JD Power surveys. Check out the full press release below:
T-Mobile Named Walmart "Supplier of the Year"
Walmart's Highest Recognition Awarded to T-Mobile for the Wireless Category and Overall Entertainment Division
BELLEVUE, Wash. — March 14, 2012 — T-Mobile USA, Inc. announced it has been named Walmart's 2011 "Supplier of the Year" in both the Wireless category and the overall Entertainment Division. T-Mobile received the highest form of recognition from the world's largest retailer, which honors the accomplishments of an elite group of top-performing companies, for helping to drive growth in wireless sales through the carrier's innovative devices and affordable services. Walmart's Entertainment Division comprises eight categories with more than 1,200 suppliers.
"We are incredibly honored to receive 'Supplier of the Year' from Walmart across its entire entertainment division, including such recognized brands as Apple, Microsoft and Disney," said Amy McCune, vice president of national retail, T-Mobile USA. "Our team has worked hard together with Walmart to deliver great value and innovative product offerings to help them better serve their customers as well as grow in the dynamic wireless business."
To meet an increase in consumer demand for both no-annual contract wireless plans and faster data speeds, Walmart and T-Mobile last October began offering a $30 unlimited Web and text Monthly4G prepaid service plan — providing customers great value on a no-annual contract 4G data offering. Walmart Family Mobile™ powered by T-Mobile, another exclusive product offering that offers cell phone service without an annual contract or multi-year commitment, also saw increased sales throughout the year. Currently, T-Mobile services, as well as a wide range of smartphones and handsets, are available at Walmart stores nationwide and on Walmart.com.
"As more people are relying on mobile devices as their primary phone and source for entertainment and social networking, Walmart is proud to offer our customers a wide selection of mobile options, including the latest devices and affordable services," said Seong Ohm, senior vice president of entertainment, Walmart U.S. "T-Mobile has been a great partner, allowing us to meet the needs of our customers with innovative products and services at every day low prices while achieving strong sales and profitability."
The 2011 Walmart "Supplier of the Year" award was presented to T-Mobile at Walmart's annual Supplier Summit held March 9 in Orlando, Fla.