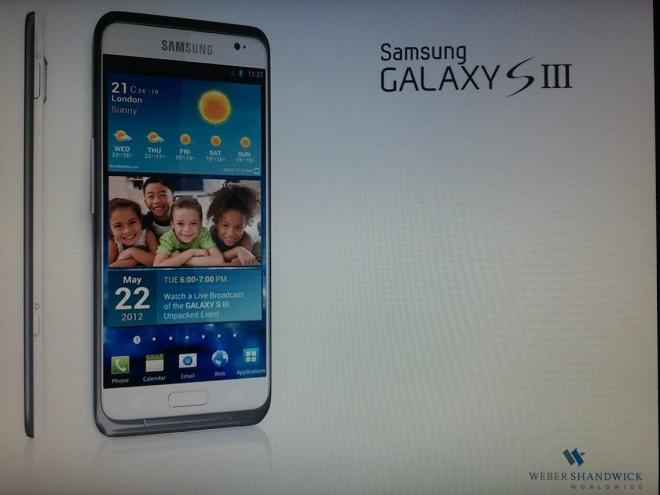 Update: Just as many of you suspected, this very well could be a clever fake.
So is this the very first legitimate image we're seeing of the Galaxy S III? Maybe, no, yes. We honestly don't know, but it does look more legitimate compared against some of the other rendered images we've seen online lately. The screen capture above was discovered on Reddit earlier this morning with almost nothing else, just the image. There wasn't any supporting information, documentation or anything else that can be verified. Given that, it's hard to know if this is in fact the real deal.
Along with the above image comes a new rumor Samsung is planning to unveil the GSIII on May 22nd, as a tie-in to the Summer Olympics in London where the announcement would take place. Samsung is a big sponsor for the London 2012 games, so that does make some sense.
The Weber Shandwick logo found in the bottom right corner of the image belongs to a PR firm, one Samsung may or may not use but it does lend some credit to the image.
At this point, everything about this image and the May 22nd date are unconfirmed, though we're always hopeful. At some point we need to know what the upcoming T-Mobile T999 model is and since we're still betting it's the Galaxy S III, we're eager to find out.