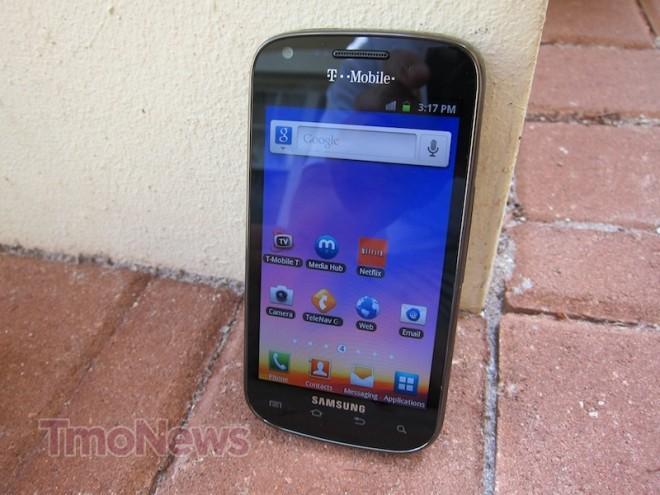 T-Mobile's newest Android offering comes in the form of the Samsung Galaxy S Blaze 4G, their third HSPA+ 42Mbps capable device to hit the market. With a 3.97″ Super AMOLED display, dual-core Qualcomm S3 processor and 4G connectivity, the Blaze 4G will try and to steal attention away from the Samsung Galaxy S II, currently T-Mobile's highest-end offering.
I should first say that this is not a review, it's barely a preview considering I just received the device yesterday. I'm definitely going to put the Blaze 4G through a bunch of paces and my regular work schedule to see how it holds up in the next few days. For now, I've got some close-up images of the Blaze 4G but mostly this is just a quick look at T-Mobile's newest handset.
For $149.99 after a $50 mail-in rebate, I can absolutely see where the Blaze 4G is going to grab your attention. The size is perfect and I mean that, it's perfect…for me. I know a significant number of you are looking at a 3.97″ display and shaking your head, "too small" you might say. I can't rave enough about how much I love the size and feel of the phone in my hand, the curved body is one of the best Android device I've ever held. The bottom line: the Blaze 4G is curvy in all the right places.
Unfortunately our review model was having some issues connecting to the T-Mobile network and we've checked around with some of our friends at other sites and none of them were having duplicate problems. I was planning on doing a video unboxing but I'd rather do a video review with a working phone as T-Mobile has already sent out another review unit.
For now, check out the gallery of images below and be sure to ask any and all questions you may have so I can get them up in my review. The Galaxy S Blaze 4G launches in select T-Mobile retail stores on March 21st with a nationwide launch on March 28th.