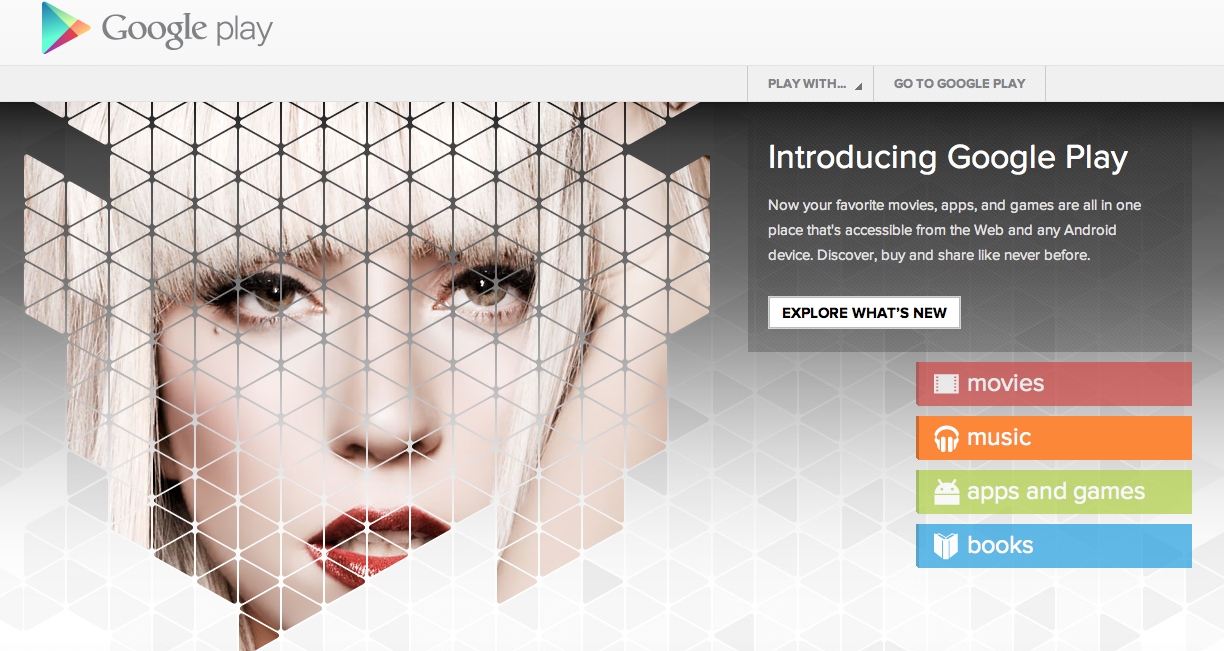 Boom, goodbye Android Market, hello Google Play. Google's new portal content is now the place for all your Android apps, games, music, books, videos and more. Google Play is now live at play.google.com and replaces the Android Market, effective immediately. All of Google's services, Google Music, Google Books and Videos service are now all in centralized in a one-stop shop for content.
Google's rebranding of their content hubs shows their interest in unifying content portals to better help Android users in what is being called "…an evolution of the Android Market." Android devices running Android 2.2 or later will have their Market app automatically updated "over the coming days." The Google Play moniker will begin making its way into the Google Sandbar as well retiring the Android Market name.
Google is obviously looking to concentrate its message on cloud-based content and keeping all of your own content in sync over the cloud. It's not only the focus, but also what is driving the message. In the Google Blog announcement, Google calls out the trouble of "moving files between your computers," and "endless syncing across all your devices…with lots of wires." Google Play is as much to Android as iCloud is now to Apple products. The reality is that not much has physically changed, but the new Google Play moniker marks a change in how Google is structuring its e-commerce choices and services. Hit the official Google Blog link below to see the whole press release or check out the video at the end of the post.
Google Official Blog, Google Play Store
Some more info from the Google Blog page:
With Google Play you can:

Store up to 20,000 songs for free and buy millions of new tracks
Download more than 450,000 Android apps and games
Browse the world's largest selection of eBooks
Rent thousands of your favorite movies, including new releases and HD titles

Starting today, Android Market, Google Music and the Google eBookstore will become part of Google Play. On your Android phone or tablet, we'll be upgrading the Android Market app to the Google Play Store app over the coming days. Your videos, books and music apps (in countries where they are available) will also be upgraded to Google Play Movies, Google Play Books and Google Play Music apps. The music, movies, books and apps you've purchased will continue to be available to you through Google Play—simply log in with your Google account like always.

To celebrate, we'll be offering a different album, book, video rental and Android app at a special price each day for the next week in our "7 Days to Play" sale. In the U.S., today's titles include the collection of top 40 hits Now That's What I Call Music 41, the popular game Where's My Water, the novel Extremely Loud and Incredibly Close and the movie Puncture for just 25 cents each. In addition, you'll find great collections of hip-hop, rock and country albums for $3.99 all week, detective novels from $2.99, some of our editorial team's favorite movies from 99 cents, and our favorite apps from 49 cents.