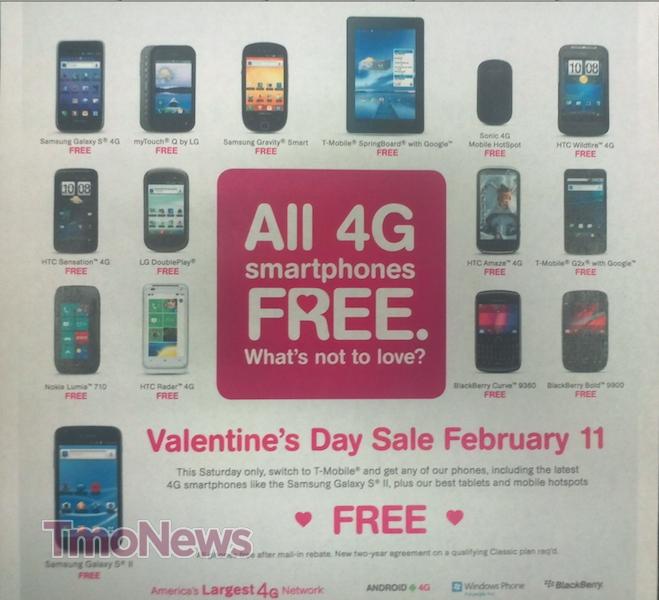 If you're hoping for more details on T-Mobile's Valentine's Day sale this upcoming Saturday, you've come to the right place. "For one day only, Saturday February 11th, new and existing customers can purchase any phone on any of T-Mobile's Unlimited Classic or Value Plans and receive a Mail-in Rebate, bringing the 2YC (year-contract) subsidy price to FREE or the net device down-payment to $0.00."
This is just all kinds of good news, a deal that includes both Classic and Value rate plan customers is a welcome change from T-Mobile's recent sales history, which were strictly Value Plan only offers. According to our information, Classic Plan customers will pay the regular 2 year-contract subsidy and then receive reimbursement for the full amount via the mail-in rebate card. Value Plan customers will be the down-payment and then receive reimbursement in the form of a mail-in rebate card. The standard upgrade rules and migration fees apply as well.
Participating in this deal will be T-Mobile retail stores, customer care and Retail Partner Stores, better known as authorized dealers. The Springboard tablet will be included along with the G-Slate if any stores have inventory on hand. It appears for at least some devices, such as the Galaxy S II and HTC Amaze 4G a 5GB data plan will be required to take advantage of this offer. This falls in line with the same need for previous T-Mobile Value Plan sales that required the same handsets having a 5GB or higher data plan attached.
We're being told to expect an official announcement as early as this afternoon regarding this sale with television, radio and print ads beginning right after.