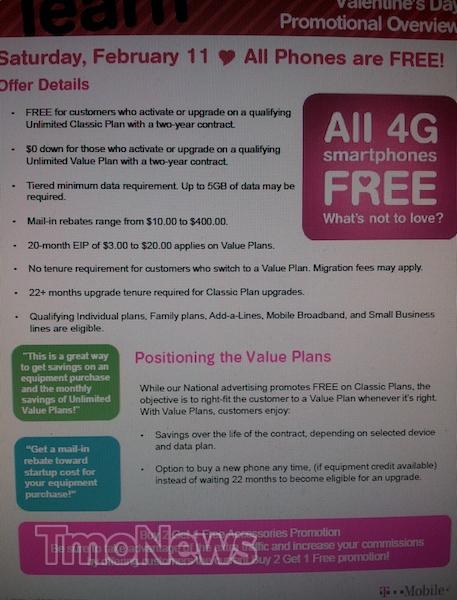 With the news that T-Mobile's Saturday "Cupid's Arrow Hits Mark" sale is officially live, we've received two very useful price guides for both Classic Plan and Value plan smartphone/tablet pricing. If you're looking at a phone purchase for Saturday's sale but aren't sure how much you'll be shelling out-of-pocket, these charts are for you. Mail-in rebates will range anywhere from $10.00 to $400.00 depending on the smartphone or tablet choice with Value Plan Equipment Installment Plans ranging from $3.00 to $20.00 per month. Qualifying upgrade customers will need to have 22+ plus months tenure to qualify for Classic Plan pricing. Qualifying plans include Individual Plans, Family Plans, Add-a-lines, Mobile Broadband and Small Business lines.
As an extra bonus, T-Mobile is offering a Buy 2 Get 1 Free Accessory promotion in addition to this one-day only sale. I'm told this accessory special offer has been ongoing but we're highlighting it again for this Saturday in particular.
Take a look at the pricing tables below for a better look at the special offers going on this weekend for T-Mobile's "Cupid's Arrow Hits Mark" sale. Also, don't forget to check out the first marketing spot with Carly and Cupid.