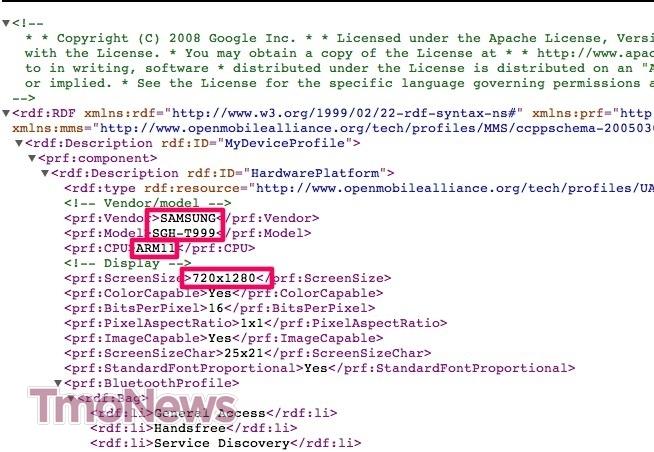 Oh how we do love hidden treasures and that's exactly what we're finding inside this user agent string. It looks like Magenta is set to receive a Samsung model, number SGH-T999 with an ARM11 processor and a 1280x720p HD display. So what do we think it is? At first glance we suspected it could be the Samsung Galaxy Nexus, but then we recognized T-Mobile doesn't need a specific model when a HSPA+ compatible version already exists. So we moved to our second and most likely guess, this is the Samsung Galaxy S Blaze 4G.
Let's back up for a second though and confirm this model is indeed headed to T-Mobile and we know so for two reasons. Both reasons are apart of the "T999" naming scheme, "T" for the name of the carrier and the "9" at the end signifying a T-Mobile variant. For example, the Samsung Galaxy S II was the Samsung SGH-T989, the Samsung Vibrant was the T959, and the Galaxy S 4G was the T959V. The T9x9 is typically reserved for high-end models on the T-Mobile network and at the time, the Samsung Vibrant was one of the high-end models on T-Mobile.
Given that the SGH-T999 will be the highest model number ever sold on T-Mobile, we're a little confused at rumors we're hearing on a$150 price point for the Blaze 4G, which isn't the usual price point for T-Mobile's highest-end devices, especially given the Samsung Galaxy S II launch price of $229.99.  Without knowing any additional specs, we would have liked to see the "T999" name reserved for the Galaxy S III. That being said, we again express our doubt this is the Samsung Galaxy Nexus, based on a number of reasons as our main spectrum guru Conan Kudo just pointed out to me, including the idea that this user string is identifiable through a WAP signature, which isn't supported on the Galaxy Nexus' stock Android platform. The Nexus S however, does have one, which gives us a sneaking suspicion we're looking at a device other than the Galaxy Nexus. However, Samsung could have placed WAP signatures back into Ice Cream Sandwich on non-stock Android devices. That, or this device is running Gingerbread. Most importantly we'll circle back to the notion that Samsung and T-Mobile don't need a specific model number for the Galaxy Nexus.
In conclusion, we believe this is the Galaxy S Blaze 4G. Also, on January 10th when the Blaze 4G was launched, a number of websites correctly stated the Blaze 4G was Samsung Model SGH-T999.