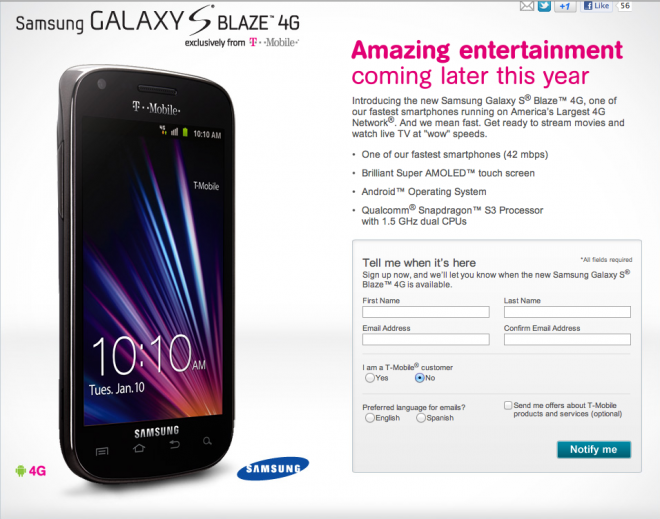 There is no question we were hoping for more from T-Mobile out here at the Consumer Electronics Show in Las Vegas, however the announcement of the Galaxy S Blaze 4G as their third HSPA+ 42Mbps smartphone isn't being ignored. The thing about CES announcements is that most products are announced, only to arrive months down the road, which is the case with a number of AT&T, Sprint and Verizon's CES announcements. They were exciting, no question about that…but like T-Mobile's news, they aren't arriving until sometime in the "first half of the year."
Well, T-Mobile is being cautious about their announcements, else they follow up the collapse of the AT&T deal with half-built products not ready to hit store shelves for months. I can't say I blame them for this maneuver either, I'd rather see them keep things tight to the chest and announce new devices when the device itself is ready for a public launch. Announcing something at CES just for sake of announcing something at CES when the product won't be ready for months is exactly the reason Microsoft has said they want to take a break from January's annual event. That's something AT&T, Verizon and Sprint aren't worrying about however, since they haven't been the subject of a takeover for months. Needless to say, T-Mobile still has plenty in the pipeline, I've been assured of that and we're looking forward to seeing what that is all about as 2012 continues. Of course, I'll be working my own angles to find out more. Stay tuned.
If you want to learn more about the Galaxy S Blaze 4G, you can sign up for more info on T-Mobile's dedicated Blaze 4G website.
Full Press Release:
T-Mobile USA, Inc. and Samsung Telecommunications America (Samsung Mobile), the No. 1 mobile phone provider in the U.S.1, today announced the upcoming availability of the Samsung Galaxy S® Blaze™ 4G. Adding to T-Mobile's lineup of fastest 4G devices, the Galaxy S Blaze 4G will be the third smartphone to take advantage of 4G technology (HSPA+42) running on America's Largest 4G Network™. Featuring a Qualcomm® Snapdragon™ S3 processor with 1.5 GHz dual CPUs, a brilliant Super AMOLED™ touch screen and a variety of pre-loaded entertainment, the Galaxy S Blaze 4G provides fast access to the things consumers want most.
"Consumers want the accessibility and entertainment capabilities that smartphones offer, and we're committed to providing a range of 4G device options," said Andrew Sherrard, senior vice president, marketing, T-Mobile USA. "The Samsung Galaxy S Blaze 4G is the latest smartphone that enables consumers to unlock the full potential of T-Mobile's faster 4G network. With a compelling set of entertainment features, paired with our Unlimited Value and Monthly4G plans, we're continuing to make it easy and affordable for consumers to experience the benefits of 4G."
The Galaxy S Blaze 4G will offer a variety of pre-loaded entertainment features so consumers can enjoy their favorite movies, TV shows, games, music and more while on-the-go. The Samsung Galaxy S Blaze 4G is expected to be available later this year; additional details regarding features will be revealed closer to availability. For more information, visit http://www.t-mobile.com/GalaxySBLAZE4G.