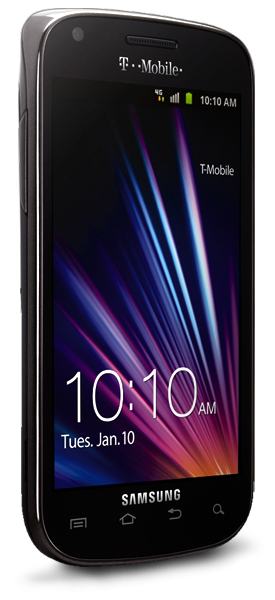 T-Mobile is announcing at CES the addition of its next 4G smartphone, the Samsung Galaxy S Blaze 4G, their third HSPA+ 42Mbps capable smartphone. The Samsung Galaxy S Blaze 4G will feature a Qualcomm Snapdragon S3 processor running a 1.5GHz dual-core CPU, Super AMOLED display. The Galaxy S Blaze 4G is expected to be available sometime later this year, like most every phone announced at CES. Additional details will follow closer to availability, but in the meantime you can find out more info about the Galaxy S Blaze 4G at T-Mobile's website: www.t-mobile.com/GalaxySBLAZE4G.
T-Mobile is announcing the expansion of their HSPA+ 42Mbps markets to an additional 12 cities beginning today. Additionally, T-Mobile is expanding the reach of its HSPA+ 21Mbps markets to an additional 9 cities today. With the inclusion of these new markets, T-Mobile now covers 217 markets across the country reaching more than 200 million people.
"Our 4G network is better than ever heading into 2012," said Neville Ray, chief technology officer, T-Mobile USA. "HSPA+ will continue to deliver a competitive mobile broadband experience for our customers in the coming years as we evaluate our options for continued investment and evolution of our 4G network."
T-Mobile CEO also reiterated that T-Mobile isn't down for the count and isn't ready to be written off. The company has a clear road ahead of them and they can write their own success story. How they will do so remains to be seen, but the path is wide open for T-Mobile to take advantage of their fourth place position and be aggressive in both value and 4G making for a winning combination that will appeal to consumers.
"Last year, T-Mobile made solid progress during uncertain times, doubling our 4G network speeds and launching 25 new 4G devices," said Philipp Humm, CEO and President, T-Mobile USA. "We are here, in fighting shape, and we will compete aggressively to win and retain customers by delivering compelling 4G services — all at a great value."
Expanded 4G markets include:
Jackson, TN,
Longview, TX,
Lubbock, TX,
Michigan City, IN,
Midland, TX,
Modesto, CA,
Shreveport, LA,
Stockton, CA,
Tyler, TX
New 4G HSPA+ 42 Mbps markets include:
Beaumont, TX,
Longview, TX,
Michigan City, IN,
Midland, TX,
Modesto, CA
Mount Vernon, WA
Naples, FL
Punta Gorda, FL (including Port Charlotte)
Sandusky, OH
Shreveport, LA
Stockton, CA
Tyler, TX.