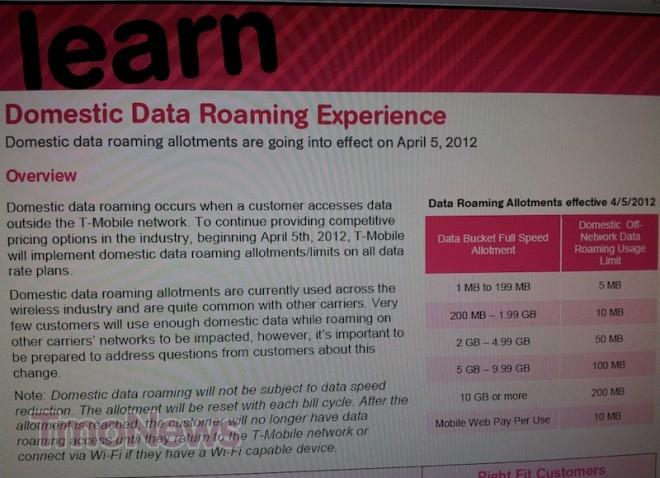 Well we can now chalk this "rumor" firmly up in the "confirmed" category for April 5th as we've gotten our hands on some more detail for T-Mobile's planned changes to domestic data roaming plans. Right away, T-Mobile does point out:
"Domestic data roaming will not be subject to data speed reduction. The allotment will be reset with each bill cycle. After the allotment is reached, the customer will no longer have data roaming access until they return to the T-Mobile network or connect via Wi-Fi if they have a Wi-Fi capable device."
T-Mobile will begin notifying customers in early February via bill insert, email and SMS introducing the new domestic data roaming plans. The domestic roaming data allotments will apply to all existing and grandfathered data plans and in T-Mobile's words "…will help T-Mobile reduce data roaming costs in order to continue providing the most competitive pricing options…While domestic data roaming allotments are new for T-Mobile, they are currently used across the wireless industry and are quite common with other carriers. It is expected that few customers use enough domestic data while roaming to be impacted by this change."
On April 5th, customers roaming outside of T-Mobile's data network will be notified via text message when they reach both 80% and 100% of their domestic roaming data allotment.

So who and what are exempt from these new data roaming plans?
Business/Government accounts
Small Business Accounts
T-Mobile employee accounts
Mobile broadband rate plans
Voice domestic roaming
Text and picture messaging while roaming domestically
International voice and data roaming