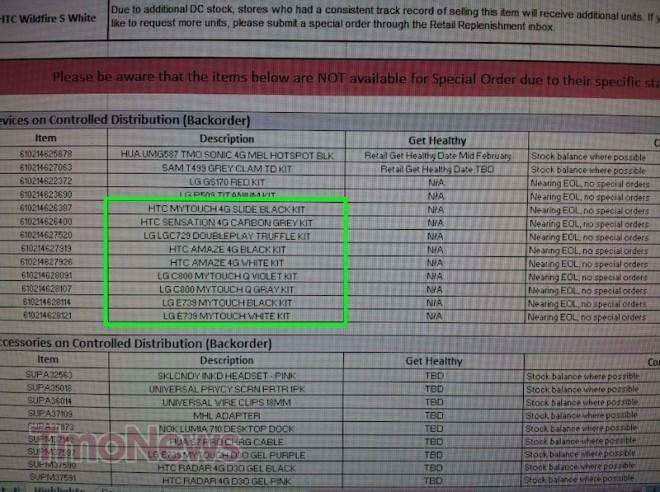 Here's a bit of interesting news to keep us talking over the weekend as a new T-Mobile inventory screengrab has fallen into our inbox indicating the HTC Sensation 4G, HTC Amaze 4G, LG DoublePlay, LG myTouch Q and LG myTouch are nearing their end-of-life status. We should remind you that "end-of-life" does not mean the Amaze 4G will immediately disappear from store shelves — if anything there could be still be weeks worth of inventory sitting in T-Mobile warehouses. That being said, the idea that the top two HTC Android phones on T-Mobile are nearing the end of their run hopefully tells us something new is on the horizon. The HTC Ville perhaps?
As we look down the list at the LG handsets nearing end-of-life, we're asking ourselves if anyone out there is terribly surprised that the myTouch and myTouch Q along with the DoublePlay are already nearing the end of their run? None of these phones were ever positioned to be heavy hitters and the DoublePlay, with its unique dual-screen approach was never given the kind of marketing or billing a phone that unique could have received.
Our first thought after reading through this list was one of hope, that T-Mobile will replace some of their high-end devices like the HTC Amaze 4G and Sensation 4G with other, top of the line handsets. Unfortunately, we've got very little information about what is in the T-Mobile pipeline for 2012, but we imagine with the Amaze 4G going away, T-Mobile isn't going to replace it with anything other than a phone that exceeds the already powerful expectations the Amaze 4G set. While the first quarter for T-Mobile might be a little sparse, our hope is that the second quarter of 2012 and beyond will be filled with lots of exciting handsets as T-Mobile revs up their lineup to lure new customers in.