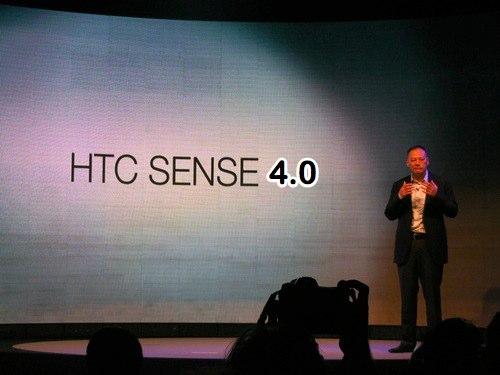 HTC Sense is undoubtedly one of the most well-known skins among all the Android platforms — with its huge clock it's both distinctive and instantly recognizable. Well, the boys at PocketNow had a chance to check out a non-final version of HTC Sense 4.0 who have been told to expect its arrival on upcoming HTC devices like the HTC Ville and HTC Edge.
First and foremost we're told to look out for an emphasis on improved typography and a reduction of the visual clutter that has plagued Sense since its beginnings. For example, turning the device into landscape orientation will yield tabs on the right, instead of on the bottom to help maximize the amount of content that is displayed on the screen. The old-fashioned bubbly menus will also change to match the Ice Cream Sandwich simplified look with gray sliders and buttons with rounded edges.
A notable change or missing piece depending on how you view it, are on-screen keys in Ice Cream Sandwich, which are absent HTC Sense 4.0. HTC will continue to ship devices with "physical" buttons and not on-display ones. Though we should note that future HTC devices with Sense 4.0 will arrive with three buttons, rather than the 4 buttons we've become familiar with.
The new task switcher provides a card-like three-dimensional view of open tasks though PocketNow adds they found the screen a little cumbersome. The lockscreen includes additional functionality as well with an accumulation of notifications, similar to iOS 5, display a task list, see a list of favorite people or access the notification shade without unlocking.
The email client has also been overhauled and is now billed as the "best-looking and most functional email client available for Android." Overall, the email client adds some new functionality along with improved battery life when using an Exchange account with push email. Multiple messages are now selected using circles rather than checkmarks, multiple messages are also reflected by a numeric indicator that will show the associated messages with a "great-looking depth effect" when pushed.
The web browser now includes a Reader feature, similar to iOS 5 that strips away ads, but not images making an article cleaner and easier to consume. There is also the addition of new Read Later and Watch Later functions allowing you to mark content for later reading or watch with a corresponding widget on the home screen. Guest mode is a new addition that allows the owner to specify which apps to display if a guest wants to use the phone.
The camera introduces a new feature that prevents a photo from being spoiled by a blinking subject. When the camera detects faces it will take five consecutive photographs and intelligently pick the best photo. HTC Sense 4.0 will also include deep integration with DropBox throwing in an addition 50GB's of storage. DropBox storage will be handled like another drive on the phone with email attachments coming from inside DropBox adding a url link to the DropBox folder and not the actual file, saving data.
Beats audio will be universal in HTC Sense 4.0, allowing the feature to work with third-party apps such as Pandora. Previously, Beats only worked with the default music application.
Overall, it seems like the new HTC Sense 4.0 is an exciting skin on top of Android, that is, if you like skins on top of your Android. Unfortunately, PocketNow wasn't able to offer any pictures to showcase their hands on however, we're just a month away from Mobile World Congress and we can expect a world debut of Sense 4.0 there.