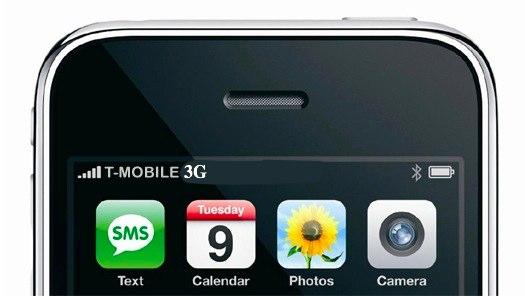 No, I'm not crazy and yes, this story is about an iPhone running on T-Mobile's 3G network. Yes we're talking 3G here because only the iPhone 4S really supports what T-Mobile quantifies as 4G anyway. A small, unknown factoid about how T-Mobile is handling some of its spectrum refarming is that in certain parts of the country, they are using the 1900MHz band (known as the PCS band) for HSPA+. We've come to expect that any time we're talking about T-Mobile's 3G and 4G phones, we're talking about phones that operate on T-Mobile's AWS band of 1700/2100. Well, depending on the part of the country we're discussing, T-Mobile is utilizing spectrum on the 1900MHz band and because of this… Some unlocked iPhone users are picking up 3G signals.
For instance, this user from Howard Forums was one of the first individuals to bring this to our attention and then we went to work. Of course by going to work we mean talking to TmoNews resident spectrum guru Conan Kudo who broke the whole thing down:
First and foremost, the area we're specifically talking about is Nevada as that is where this individual unlocked iPhone owner lives. However, Nevada, parts of Northern California and the Pacific Northwest are also seeing some pockets of 1900MHz spectrum refarming for HSPA+. There are other parts of the country T-Mobile can refarm the 1900MHz spectrum but, the focus is on the Pacific Northwest, Nevada, Utah and California for right now from what we're told. We should emphasize and emphasize greatly that this post does not mean that all of the aforementioned areas are seeing this refarmed spectrum, just pockets inside those areas.
So why is T-Mobile refarming this spectrum? In order to roll out HSPA+ 84, they need four carriers, meaning towers that the phones can connect with. AWS spectrum typically only provides two carriers (which is required for HSPA+42), aggregating AWS and PCS will support at least four or five carriers. That's not true for all regions, but a good number of regions will require "dual-banding" to pull off HSPA+ 84.
Incidentally, the HSPA+ 84 network will allow T-Mobile to claim that peak speeds are 10-12 times faster than 3G, if 3G is being rated as HSPA 7.2. If it was being compared to EV-DO (which Sprint and Verizon run), it would be 26-27 times faster (EV-DO peaks at 3.2Mbps)!
Coming back around to the iPhone as a small handful of users have reported seeing T-Mobile 3G appear on the iPhone and speed tests yielded results that a 2G signal wouldn't allow.
So what does all this mean in layman terms? For the moment, nothing… Unless you happen to be in an area where T-Mobile is refarming spectrum on the 1900MHz band and use an unlocked iPhone. Think back to the Samsung Vibrant and the knowledge that phone had a special antenna as T-Mobile had Samsung hook up the PCS band in the hardware so that the radio could receive and transmit on PCS for 3G. In other words, the significance of that device is that before it, we can't recall any T-Mobile device that had UMTS 1900 support. T-Mobile has begun including the 1900 UMTS band in higher-end devices which explain why the Sidekick 4G didn't include it, but the Samsung Galaxy S 4G did.
The bottom line is that in some areas, there is a real possibility unlocked iPhone owners could pick up pockets of 3G signal. It's not going to be a scenario we see playing out all over the country, in fact it's probably going to be pretty rare with lots of emphasis on rare. We're not quite sure exactly what T-Mobile is up to, we do know HSPA+ 84 is currently in testing and we might learn some kind of launch time frame at CES in January. Until then, we'll keep trying to figure out T-Mobile's spectrum plans and see what other kind of hidden mysteries we can uncover. 
I understand for many of you, this story will look and read like a lot of bs. I hope you recognize that I wouldn't run something like this if I didn't think it had some merit. This is absolutely one of those things that is difficult, if not impossible to prove unless you know what are you looking for and where to go to find it. I can't emphasize enough how unlikely it is you will find this signal at the moment but, without knowing T-Mobile's plans for their 1900MHz PCS band, it's possible we could see more of this pop up in the future but again, it's likely to be rare. 
If you want to see if your area is working on the new PCS HSPA+ network, you'll need one of the following devices:
Samsung Galaxy S 4G

Samsung Vibrant


Samsung Exhibit II 4G

Samsung Galaxy S II

HTC Amaze 4G

HTC Radar 4G

Nokia Lumia 710

Samsung Galaxy Tab 7.0 Plus

Samsung Galaxy Tab 10.1

T-Mobile Springboard

Dell Streak 7

Dell Inspiron Mini 10

T-Mobile Sonic 4G Mobile Hotspot

T-Mobile Rocket 3.0
If you have a Samsung phone, you can check which frequency band you are using by going to the dialer and entering in the code "*#0011#". There are also ways to temporarily and persistently disable and enable frequency bands from the software on Samsung phones. HTC users may need to look into the testing menu to find out how to check the band being used. We don't know how to check on any other devices though, particularly the tablets, the laptop, the hotspot, and the data stick. They'll work on the PCS HSPA+ network though.
Many many thanks to Conan Kudo who helped contribute to this report with his never-ending understanding of spectrum analysis.
More Info: HowardForums 1, HowardForums 2