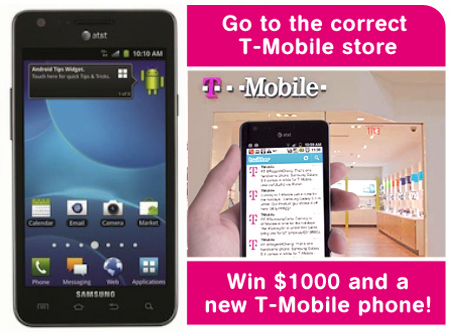 Bravo to TmoNews Reader Cory who just pointed out in the comments what nobody else had managed to discover. T-Mobile made a little #doh mistake with the addition of an AT&T Galaxy S II smartphone in their How it Works guide for the upcoming #FindTheElf Twitter holiday contest.
We're not reading anything into this other than it being a little photoshop mishap as they happen to even the best companies. Still, it's rather funny that of all companies to use…they used AT&T. As Andrew just pointed out to me, they didn't specifically say this was only open to T-Mobile customers so…maybe AT&T customers can win as well? The contest rules do state it's open to legal residents of the US age 18 and older. Still, using an AT&T smartphone strikes me as humorous.
Little bit of weekend fun for you!
Want to know more about the #FindTheElf Twitter promotion? Read this post.