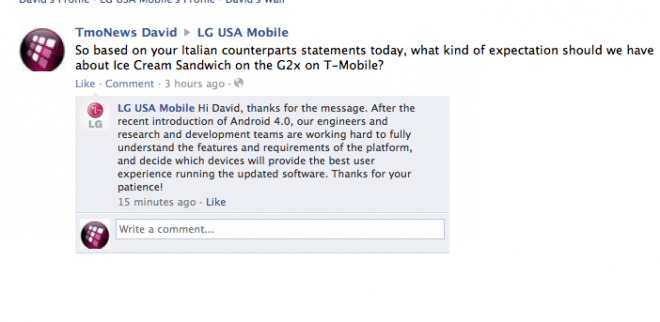 LG took to Facebook this morning and announced that four of its smartphones will receive the update to Ice Cream Sandwich. The top four devices just so happen to be LG's top four smartphones in the form of the Optimus 2X, Optimus Black, Optimus 3D and Optimus LTE. While the timing for the upgrade schedule has yet to be determined, the moment we caught this we wondered what about their US handsets?
With the T-Mobile G2x being the US variant of the Optimus 2x we hope that this update also includes the international counterparts of LG's top four devices. Hoping to get a more concrete answer we pinged LG on Facebook and received a generic noncommittal response, but our hopes are high considering the Optimus 2x is on this list. We'll just have to wait and see.
LG's message from this morning on Facebook:
LG confirms today that the Ice Cream Sandwich (ICS) OS will be initially available for the following high-end LG smartphones which were introduced this year: the Optimus 2X, the Optimus Black, the Optimus 3D and the Optimus LTE. We are also continuing to evaluate the ICS OS to determine whether it is compatible with the functionality, features and performance of other LG smartphones to make the ICS OS available on as many LG smartphones as possible.

In December this year, the forthcoming upgrade schedule and additional specific models for the ICS OS upgrade will be posted on our LG Mobile Global Facebook page (www.facebook.com/LGMobile) and on our local LG websites. Please stay tuned for more updates from LG.