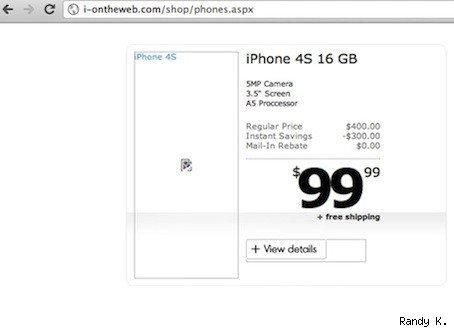 Tomorrow afternoon will finally provide answers to all our "iPhone 4S/5" questions especially the one surrounding the appearance of a T-Mobile iPhone. Almost every sign points to the T-Mobile iPhone being a no-show, there is at least one story that is causing T-Mobile customers, including yours truly some concern. The weekend leak comes courtesy of a Cincinnati Bell customer discovering a pair of placeholder entries for the upcoming iPhone 4S and iPhone 5. The thing is, Cincinnati Bell uses the very same AWS frequencies that T-Mobile uses and if these images are in fact actual placeholders for upcoming iPhone's, that would destroy the belief that Apple didn't create an iPhone for T-Mobile because of the rare frequencies being used.
Cincinnati Bell, with a  significantly lower customer count would be a huge blow to T-Mobile should they receive the iPhone as a regional carrier. While the listings could be fake or someones idea of a cruel joke it have raised plenty of suspicious eyebrows. With T-Mobile CMO's comment last week tempering expectations for a T-Mobile iPhone and once again reiterating the company's commitment to the Android platform he did recognize that T-Mobile wishes the iPhone was in their lineup. The after effect of the T-Mobile blog post led many to hypothesize that the lack of a T-Mobile iPhone was due to the AWS bands T-Mobile uses for their 3G/4G network. However, if Apple can manufacturer an iPhone for a regional carrier with a significantly reduced customer count what will that say about T-Mobile's willingness or ability to partner with Apple?
No matter what happens, we'll find out the answers tomorrow afternoon. The one bright spot of a Cincinnati Bell iPhone would be the hope it could unlocked and used on T-Mobile's 3G/4G network.