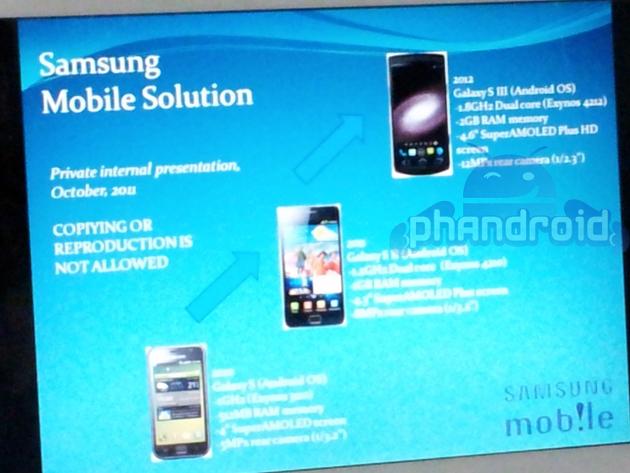 The timing of this news couldn't be any better as we've finally arriving on Samsung Galaxy S II pre-order day for T-Mobile. Given the leaked slide above the Galaxy S II already looks like yesterday's news as some details are now leaking out on a possible successor, the Galaxy S III.
Let's just kick this right off and say that we have some skepticism surrounding this document as does Phandroid, the benefactors of the insider who sent this over. So with a bucket full of grains of salt at our feet let's dig into this slide.
The processor will remain dual-core and stick with the Samsung Exynos family of processors that powers most of the Galaxy S II models save for the T-Mobile version. The processor itself will get bumped to Exynos 4212 running at 1.8GHz and a RAM bump up to 2GB.
The rear facing camera gets bumped up to 12 megapixels and will feature a CMOS sensor greatly allowing for improved image quality in low light situations.
Last but not least is the 4.6″ Super AMOLED Plus HD display which is truly a mouthful but is also the very same size as the rumored Galaxy Nexus/Nexus Prime.
According to the anonymous tipster the slide itself is missing a few more pertinent details including LTE and NFC capability, Ice Cream Sandwich Android on board and has four physical buttons.
We should come back around and say this mystical device almost too good too be true and it's possibly because of the misspellings and spec errors in the slide. Of course those kind of things have happened before and will happen again so we're chalking this one into the hopeful but wild rumor category.
What do you think? Mystical phone or spot on?