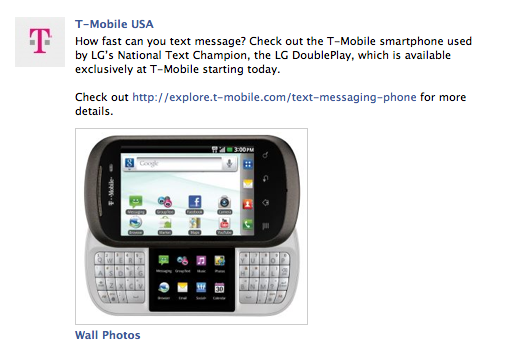 Right on cue LG and T-Mobile have announced the LG DoublePlay, available exclusively from T-Mobile.com beginning today and in-stores on November 2nd. The DoublePlay is geared toward social-media minded individuals who can benefit from the always-on connection the dual-screen DoublePlay provides.
"What makes the LG DoublePlay great, is the second screen that is totally dedicated to my social life! That way you never miss a conversation and you're always in on the action. Plus, you never have to quit games or social networks to reply, like you would with other phones."
The DoublePlay packs a 3.5? primary screen, 2.0? secondary screen with a Slide-Out QWERTY keyboard, Android 2.3, 4G, 5 megapixel camera, 720p HD video and 1500mAh battery. The DoublePlay is now available from T-Mobile.com and will be available in stores on November 2nd. The DoublePlay is available with a two-year contract for $99.99 after a $50 mail-in-rebate.
Learn more about the DoublePlay on T-Mobile's website.