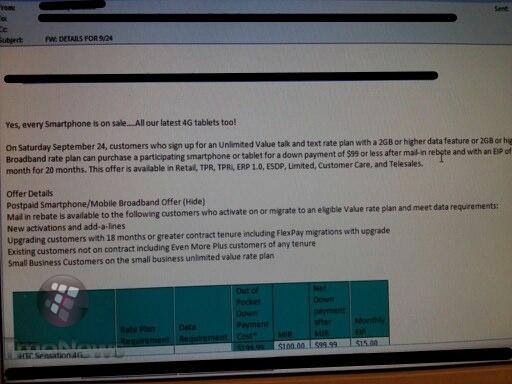 If you're eye-balling Saturday's "Yes, everyone phone is on sale, sale" then there at least a few things you should know before you head out to your local T-Mobile store. First and foremost this deal only works at corporate owned retail stores, telesales and general customer care. This deal is for new activations, add-a-lines and upgrading customers with 18 months or more contract tenure including FlexPay migrations, existing customers not on contract including Even More Plus customers and small business customers on the small business unlimited value rate plan.
As an example of how this deal will work, a customer will purchase an HTC Sensation 4G for $199 down payment with an EIP of $15 per month for 20 months. After the $100 mail-in-rebate the net down payment is only $99.99.
The list below indicates what rate plan customers must be on in order to qualify for specific discounts on handsets. You can see each handset is listed with the out of pocket pricing, mail-in-rebate, net down payment after mail-in-rebate and the monthly EIP expense.
Take a look at your phone of choice on the spreadsheet below to understanding what kind of pricing you are looking at. Happy sale day Saturday!
Want a full breakdown on how Value plans work? Read our guest post breaking down Value plans and their "value!"