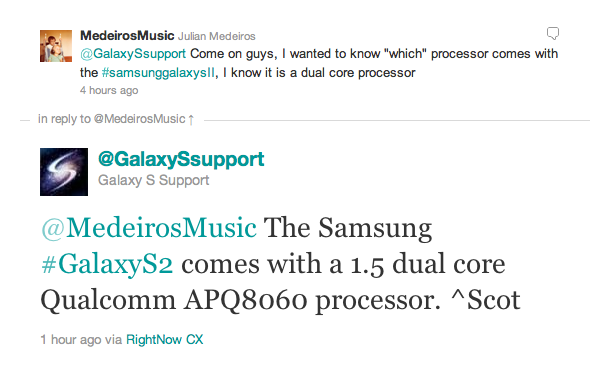 It appears as though Samsung's very own @GalaxySsupport Twitter account has let loose the processor that we will eventually find inside the T-Mobile bound Galaxy S II. PhoneDog reader @MedeirosMusic pinged the Samsung Galaxy S Twitter account about the processor only to be told it was a dual-core option. Well that answer didn't suffice as Julian further pressed the Samsung account for an actual processor and got an answer: a 1.5GHz dual-core Qualcomm APQ8060 processor or exactly what people expected would be inside the phone.
Still, this isn't what we'd consider absolute "confirmation" from Samsung even though we'd like to think this tweet accidentally let the cat out of the bag. The APQ8060 processor has been suggested as the possible Samsung Exynos replacement since it can be paired with the MDM8220 modem providing 42Mbps HSPA+ speeds for the T-Mobile variant of the Galaxy S II.
So now that Samsung has possibly spilled the beans, does this mean we can get a true hands on with the phone now?