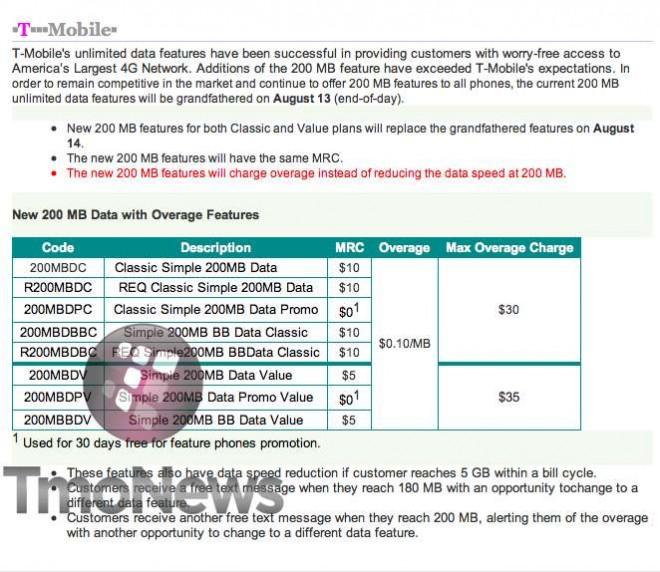 According to this leaked image which hit our inbox T-Mobile is set to make a change to their lowest data plan offering by removing the throttling and returning to overage charges. This represents a major shift in T-Mobile's data policy even if it only affects the lowest price offering. T-Mobile's marketing approach to competitive data offerings in recent months has been their "no overage" plan so this change is definitely one to note.
T-Mobile notes that the 200MB feature has exceeded T-Mobile's expectations so "in order to remain competitive" and continue to offer the rate plan it will be grandfathered as of August 13th. An overage charge of $0.10 per MB will be assessed upon exceeding the 200MB limit with a maximum overage charge of $30 allowed on the Classic Plans versus a maximum overage charge of $35 on Value plans. Customers will receive a warning when they hit 180MB along with a 200MB alerting them to change the data plan to a higher offering or incur overage charges.
While this change only affects T-Mobile's lowest data plan offering we have to wonder if the "expectations" for the higher end offerings won't end up suffering the same fate. At this point we have no indication that any changes are coming for the higher end data plans but we didn't have any indication the 200MB plan would change either. Let's hope that T-Mobile believes that their throttling, however "unlimited" or not you may feel it is still represents a "better than the overall industry" approach to data plan charges.