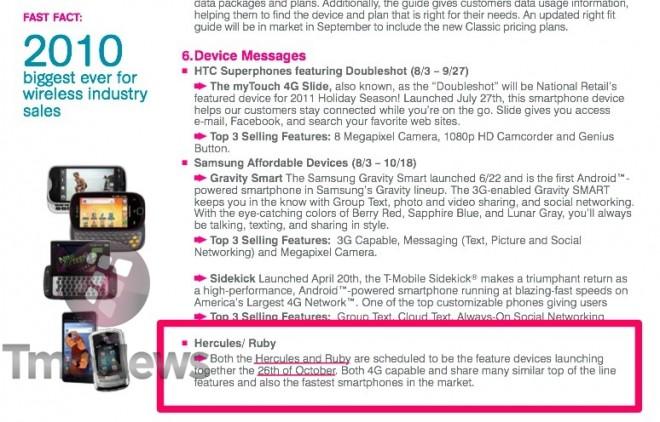 There is little doubt that the Samsung Hercules aka Galaxy S II and the HTC Ruby are two of T-Mobile's most anticipated devices as we rev up the back-to-school season. Both devices are Android powerhouses with each promising something a little different. We're still missing out on a whole lot of details regarding both devices but one thing we can cross off our to do list is attempting to nail down a release timeframe.
While rumors had pegged the Hercules for a late September arrival, this back-to-school leaked slideshow tells us that both the Samsung Hercules and HTC Ruby will arrive on October 26th of this year. Of course this far out it's entirely possible that date could change many times over but at the very least we've got the first physical evidence that shows a release date.
WIth the Samsung Galaxy S II event coming up at the end of the month we expect that T-Mobile will be on hand to show off their Hercules variant and give us the usual "coming soon" speech. Of course Galaxy S II fans have a reason to compare the beast that is the Samsung Hercules against the HTC Ruby with specs that clearly rival it. There is plenty of time to compare both devices with a release timeframe of over two months away and we're likely to know a whole lot more about each device as the October date approaches.