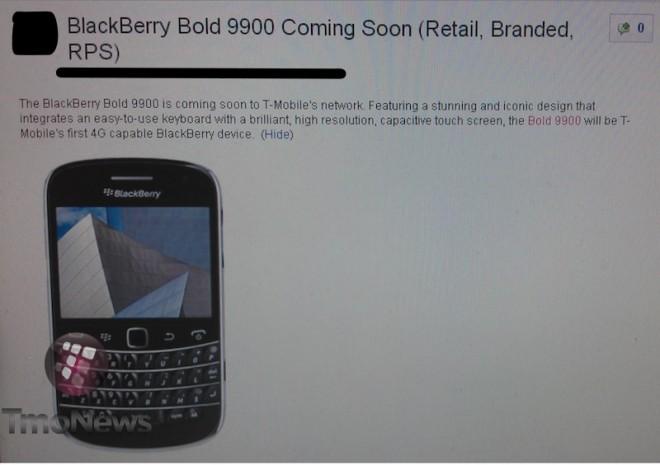 The Blackberry Bold 9900 is ready to make its arrival on T-Mobile's network sometime in the near future as T-Mobile has posted internal docs previewing the device as "coming soon." Of course all signs point toward August 31st as the arrival date. That's "soon" right?
What's truly interesting about the second image we received is listed under the specs: no Wi-Fi calling, UMA or Wi-Fi Hotspot. The image expressly tells us that these particular features are a no go at this time. However, according to the folks at MobileSyrup a leaked document for Canadian carrier Rogers indicates the UMA feature will "not be available at launch — enabled via software update at future timeframe." We'll assume that the means the update is coming from RIM and that it will be a worldwide update to Blackberry Bold 9900 users. Without this feature at launch we wonder if Blackberry isn't risking some immediate sales on T-Mobile or other UMA supporting carriers if the 9900 lacks UMA.
Still, the Blackberry Bold 9900 is going to be the best Blackberry yet and with 4G on board along with the always great Blackberry keyboard this is definitely THE Blackberry to get.