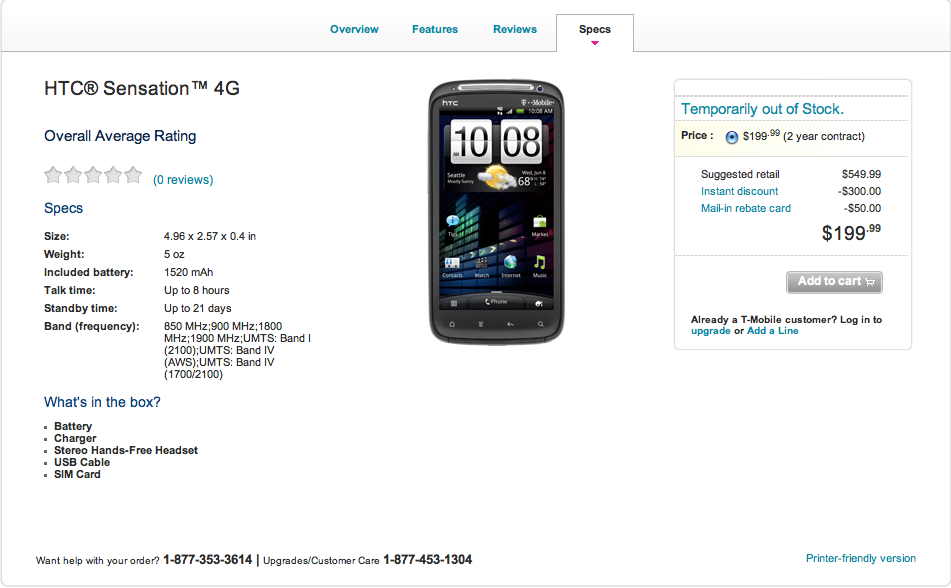 Well it's June 15th and the HTC Sensation 4G is very much on T-Mobile's website though it appears to be "temporarily out of stock?" Without a pre-order and knowing that retail stores have received unusually high volume I'm a little confused as to why there is an out of stock message. We've pinged T-Mobile and asked them what's going on so we'll update the post as soon as we get a response. As a quick reminder T-Mobile announced the Sensation 4G would be available "by" June 15th so we're definitely on that date along with the $199.99 pricing after a $50 mail in rebate.
Those looking to upgrade to the Sensation 4G ARE seeing the phone as available through myTmobile.com but potential new customers are seeing the out of stock message.
As an added bonus to today's launch however T-Mobile has indicated via their Twitter account that those looking to order online this morning should stand by for a $50 promotional offer. We'll be waiting for that one and posting it as soon as T-Mobile releases it!
Planning to purchase the HTC Sensation 4G online? Keep an eye on T-Mobile's Twitter acct. for a $50 off promotional code Wed. morning.