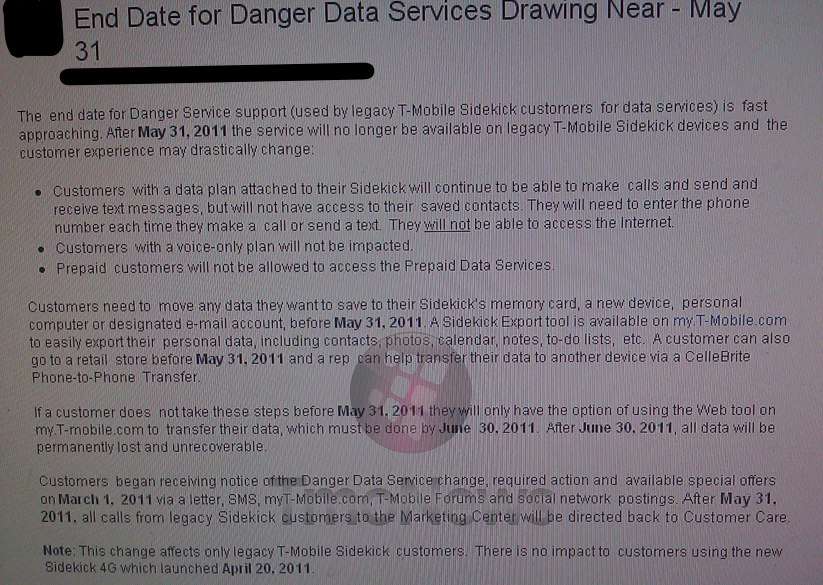 T-Mobile wants to remind us that coming May 31st, 2011 Danger Service support for legacy T-Mobile Sidekick customers will come to an end. We're sorry to see the Sidekick line fall into nothingness having been one of T-Mobile's great success stories and perhaps one of their greatest handset triumphs. After May 31st customers with a Sidekick data plan will be able to make calls, send and receive text messages but will not have access to their contacts or any other data services. Sidekick users will want to immediately begin moving their memory to a new device, computer or email account before the clock strikes 12 on May 31st.
Thankfully T-Mobile has provided an export tool on myTmobile.com so Sidekick owners can easily export personal data including contacts, photos, calendars, notes and to-do lists. Between May 31st and June30th, customers will still be able to export personal data using the web tool however after June 30th all data will be deleted as the Sidekick data center closes permanently.
We'll miss the Sidekick line and the dancing commercials the Sidekick LX brought us which we're sorry to say are infinitely better than the rapping white guy. At least we'll have the Sidekick 4G which carries on the Sidekick name in body and now powered by Android.
Our friends over at GeekWire have a great rundown of the Danger to Android transition which is a fun little read.
Thanks for the memories Danger, we'll miss you.