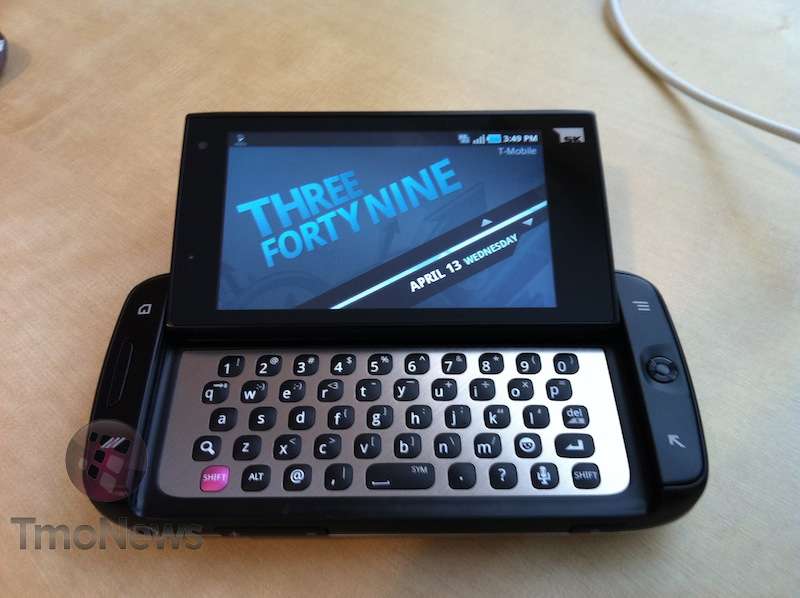 When I received the Sidekick 4G in the mail from T-Mobile, I wondered what T-Mobile hoped to accomplish with the Sidekick line. Several years ago, when the news originally broke that the Sidekick line was being killed off, existing users and ardent supporters of the fabled Sidekick line were understandably upset. The data outage that plagued the Sidekick brand back in October of 2009 was the straw that broke the camel's back. There was no way that line could recover, at least not in that form.
So we move forward to today with the introduction of the Sidekick 4G which maintains the best of the Sidekick hardware with the introduction of a more modern OS platform, that of Android.
I've put the Sidekick 4G through almost two solid weeks of review, and I can say with confidence this device is the Sidekick hardware you want to remember. For long-time users of the Sidekick platform, Android will be hit or miss but you'll definitely love the keyboard. Oh, you'll want to make sweet love to the keyboard.
Specifications:
3.5″ (800x 480) touchscreen
1 GHz Cortex A8 (Hummingbird) processor
5-row QWERTY keyboard with dedicated Voice Actions key
"Pop-tilt" hinge
5.7 ounces
Eight colorful theme options
Android 2.2
HSPA+ 21Mbps capable
Pros:
Oh my goodness, what a great, excellent, and amazing keyboard
Great battery life
Android
Fast 4G data speed
Cons:
A little on the large side, not overly so but larger than the all touchscreen devices we have gotten used to
No landscape phone dialing
Camera, power button positions aren't ideal
Some lag with gestures
Hardware:
It would tough not to instantly recognize the body and design of the Sidekick 4G as a Sidekick. The form factor won't be mistaken as an iPhone.  It's distinctly Sidekick and that's a great thing. I compared this to a friend's G2 and it's definitely wider when the keyboard is open. At 5" x 2.4" x 0.6", the Sidekick isn't a small phone but it's not that heavy.
The front of the device has four tactile buttons. On the left are the Home and Jump buttons and on the right are Menu and Back keys. An optical navigation pad sits in-between the Menu and Back keys. On the bottom of the device is the headphone jack, volume control and power function. The top of the device has the dedicated camera key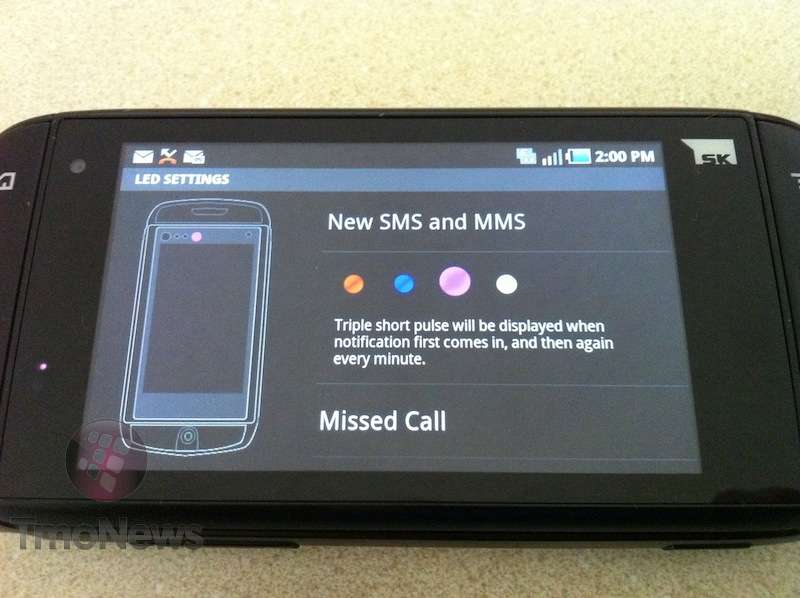 and usb slot. The back has the Sidekick's 3 megapixel camera sans flash which has the companion front-facing VGA camera for video chat. Beneath the front-facing camera is the LED notification light which can be customized for various features and colors.
The keyboard, oh yes, this beautiful keyboard. It's awesome on so many levels. Did I mention I love the keyboard? The keys are nicely spaced and their rubberized coating gives them great tactile feedback. The 5-row keyboard gives you dedicated number keys, shift key, emoticon and a voice action button. The default touchscreen keyboard is swype but I honestly found myself constantly going back to the hardware keyboard because it's just wonderful.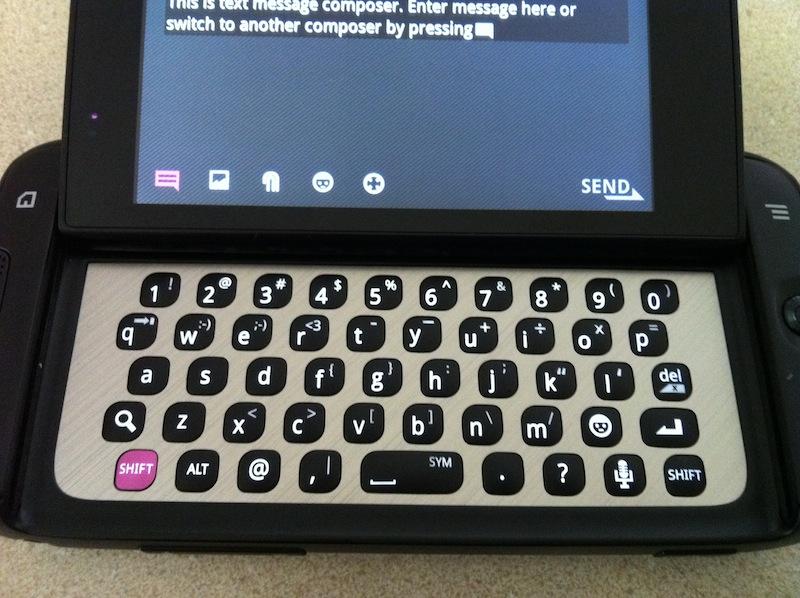 The Sidekick 4G has a plastic like feel but, unlike most devices, that's not a bad thing. The outer shell seems sturdy and the "pop-tilt" hinge doesn't give away any impression it's going to fail. The screen pops up quickly and feels very natural.
Software:
So here is where the Sidekick 4G begins to differentiate itself from the Sidekicks of old. In case we have some new readers joining us, the Danger OS is being discontinued at the end of May so T-Mobile found a  new way to breathe life into the Sidekick line by adding Android. The Sidekick 4G comes with Android 2.2 but with a twist. This isn't your typical Android overlay as there are plenty of tweaks to differentiate the Sidekick 4G from other Android devices running the same platform.
The lockscreen is your first glimpse at how different the Android overlay is with a diagonal split with almost cartoonish letters. Sliding up or down on either diagonal will unlock the device and, of course, the lockscreen will show you if you have any missed calls or messages waiting.
To help make former Sidekick owners feel a little more at home, the side-scrolling Jump menu lists the most recent apps.  However, you can add in your own Jump key shortcuts by individual alphabet letter.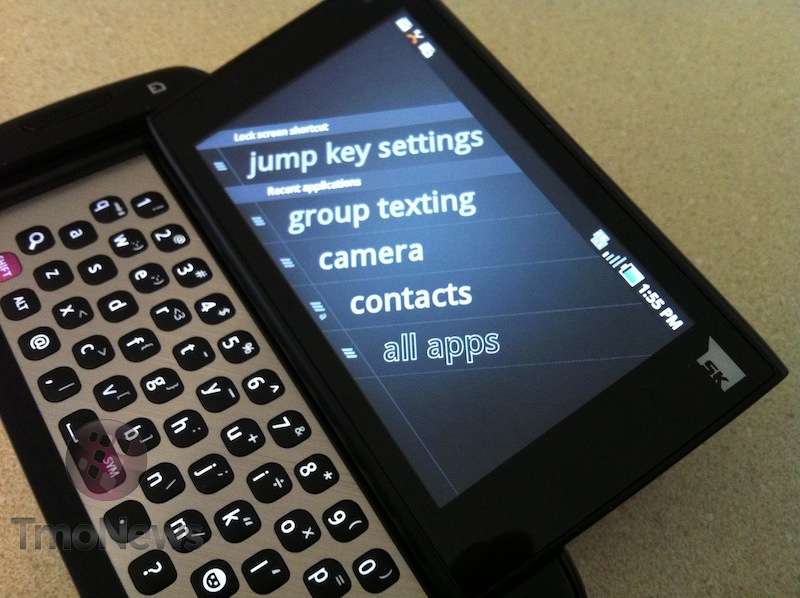 The seven home screens bring the typical Android look and feel along with the phone, apps and contact buttons remaining in the permanent position at the bottom providing easy access in any screen. The apps screen scrolls left to right as per the typical Samsung Touchwiz Android interface.
The home button serves two masters with the actual "home" feature taking you back to the home screen from any place in the menu. A long press, however, will bring up your notification screen. Something that was pointed out to me was the option to update your Facebook, Twitter and MySpace service from the notification screen which isn't something you'll typically find on an Android device.
Performance: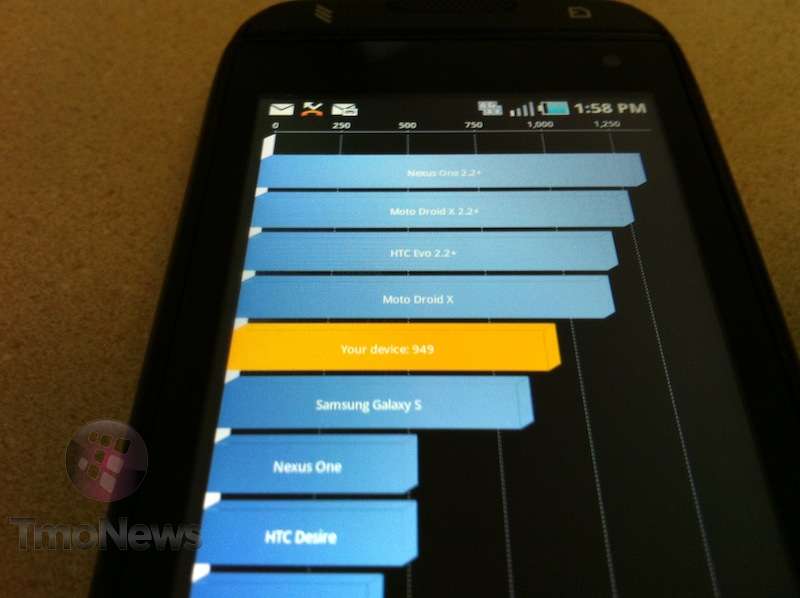 With a 1 GHz Cortex A8 Hummingbird CPU, the Sidekick 4G was able to crank out a high score of 1018. When putting the device through a daily routine I would find intermittent lag particularly in the browser when flash content was being used. I never felt the device slow to a crawl but there definitely were some times that lag was noticeable. Still, it was never frequent enough or slow enough that it interrupted any of my daily usage. I'm a power phone user and I use a multitude of apps at any given time so it's possibly I was simply asking the phone to do too much. On the flip-side, a removal of the Android overlay with root and a custom ROM and the Sidekick 4G could crank out significantly improved performance results.
Messaging:
The Sidekick 4G is a device built for messaging and T-Mobile built the device for this very purpose. The Group Texting app will let you send messages to pre-assigned groups. This will allow group members to see the responses from other group members regardless of phone or carrier.
In an effort to extend the text experience to the home PC, Cloud text backs up your conversations online and provides access to them via the web browser. Visit cloudtext.sidekick.com and set up Cloud Texting. Admittedly, I didn't try this feature as it wasn't live when I first received the phone.
Entering the messaging screen brings you to the standard text message screen.  A quick press of the Magenta colored key brings up the 'Universal Composer' allowing you to send an update to Facebook, Twitter or MySpace. You can send updates to multiple services if you are so inclined.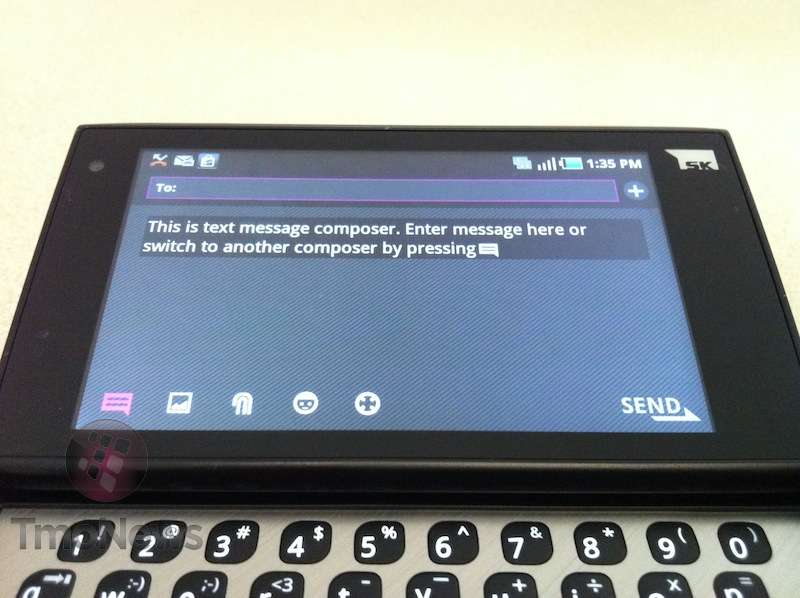 Having used the phone for almost 10 days as of this writing, I can safely say that the Sidekick 4G is as expected – a messaging phone through and through. The way-above- average keyboard brings home a fantastic messaging experience. Whether it's just texting a friend or quickly updating your Facebook status, the Sidekick 4G gets it done.
Media Room:
Media room is the Sidekick 4G's all-in-one media playing app. The standard Android music player is here along with T-Mobile TV and YouTube in the video category and with Slacker Radio. This comes off as fairly standard stuff to any past or present T-Mobile Android user and simply bundles the applications. There is an extra option to rate songs on a scale of 0 to 5 however I can't see myself or anyone for that matter really concerning themselves with a rating scale in real life. It's a nice little feature but feels like something was missing and they added it in at the last minute.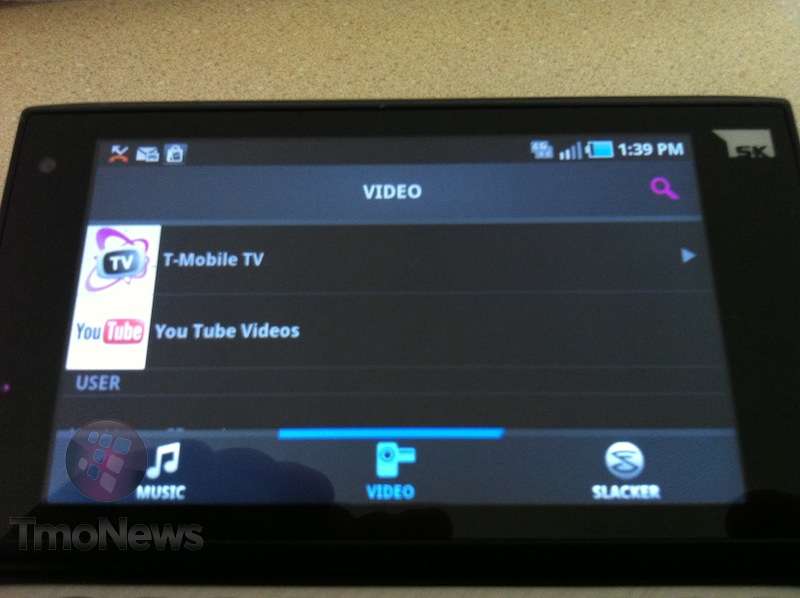 Phone:
During my phone conversations with the Sidekick 4G, callers told me the phone sounded very clear. There was plenty of volume in the earpiece which is a feature I truly appreciate and the speakerphone was also loud and clear.
As expected in T-Mobile Android devices these days, Wi-Fi calling is present and accounted for. It worked exactly as it was supposed to and set up on my home network without a problem.
Coverage: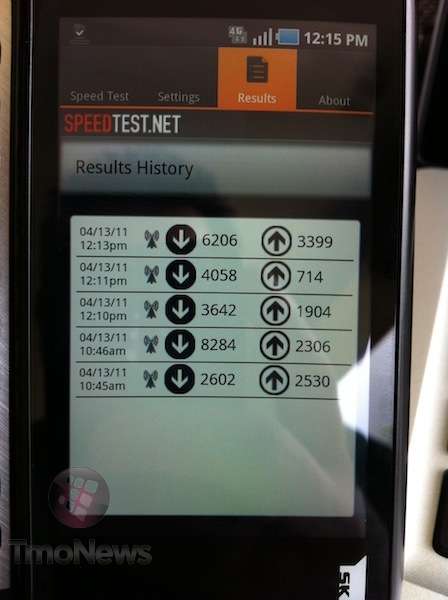 Depending on where I am in South Florida, T-Mobile coverage is anywhere from acceptable to great. I did some road tests with the Sidekick 4G as well as hit some spots I know to be perfect for speed tests. The pictures tell the story as the Sidekick 4G is no slouch with my slowest speeds coming in at 2.6 Mbps on the downlink and high end speeds coming in at 8.2 on the downlink. I was often somewhere in the middle when in good 4G coverage and far below when I wasn't in a good coverage area. It has been my experience that T-Mobile 4G coverage is really hit or miss. When it's on, it's on like donkey kong but when it's off, prepare yourself for EDGE like speeds. That being said, the Sidekick performed incredibly well when the network gave it the opportunity to do so and I was very impressed by the browsing and download speeds.
Battery Life:
The Sidekick 4G comes stocked with a 1,500 mAh battery which is fairly standard for Android phones these days. With heavy use, I was able to get through a morning to night daily routine. Keep in mind I have push email turned on for three email accounts, Twitter on manual refresh and a heavy load of text messaging going on at any given time. Throw in some moderate web browsing and I was still successful in going from sunrise to sunset with the Sidekick 4G.
T-Mobile rates the battery talk time as 6.5 hours with 19 days of standby time.
Camera Gallery:
Verdict:
Samsung certainly had a lot to live up to by taking over the Sidekick line from the folks at Sharp who had all but perfected a device with one of the most loyal followings in recent memory. Present and past Sidekick owners will find plenty to cheer about in terms of hardware and will likely forget within a few minutes that the back of the phone is stamped with the Samsung name. If you didn't know any better and had never seen the Android overlay, at first glance you'd easily recognize this device as the unmistakable form factor of the Sidekicks of old. However, this time the Sidekick has a bigger processor and a much more powerful operating system.
The Sidekick 4G might be targeted to a younger set but I can absolutely see this device appealing to anyone who has been looking for the perfect QWERTY keyboard in an Android package.
This was our first official review phone from T-Mobile and I couldn't have picked a better and more fun device to review. For just $99.99, the Sidekick is a well-designed Android phone that has plenty of depth in the messaging department, 4G speeds, a keyboard that makes me want to do a happy dance and it has Android. Its biggest competition in the T-Mobile lineup in the G2 which offers a larger screen and stock Android but it's not nearly as much fun to play with and it costs $100 more.
The bottom line is that the Sidekick 4G has a lot to love and is a great addition to the T-Mobile lineup. The Android overlay may not be for everyone, especially Android purists but it's worth checking out if only to feel how amazing the keyboard is. Samsung, Android and T-mobile have breathed new life into the Sidekick line and they've done it well.
Full Gallery: