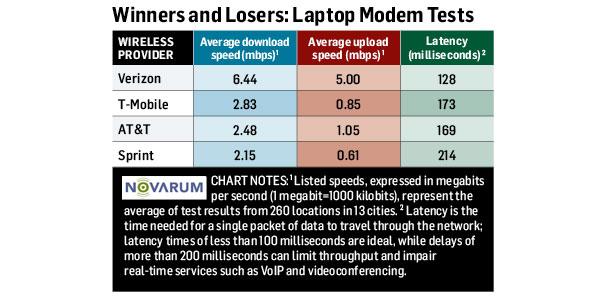 Booyah, T-Mobile wins the PC World speed test for fastest Smartphones! Can I get a "what what?" The PC World speed test conducted in 260 locations spread amongst 13 cities found some clear winners, losers, good news and bad news about wireless service in the US as it stands.
It'll shock no one to learn that wireless carriers have gotten faster this year over last year. Surprising? Didn't think so. The difference between 3G and 4G speeds is legit with carriers averaging a rough download speed of 3.5 Mbps versus nearly 1 Mbps download speeds at the beginning of 2010.
In laptop modem tests, T-Mobile took a second place finish with an average download speed of 2.83 Mbps against Verizon's 6.44 Mbps showing that their LTE is the real deal. Coming up in third and fourth were AT&T at 2.48 Mbps and Sprint at 2.15 Mbps.
When it came down to the smartphone test, the T-Mobile HTC G2 was brought out and rocked the 13 city test with an average download speed of 2.3 Mbps. That speed was almost 52% faster than the second fastest phone, the Sprint Evo 4G with an average download speed of 1.5 Mbps.

T-Mobile performed a huge turnaround between 2010 and 2011 tests with their January 2010 test showing only 0.9 Mbps download speeds. With solid performance on both the laptop and smartphone tests PC World had this to say about our favorite network.
With these laptop- and smartphone-based results, T-Mobile is proving to be a worthy challenger to its much-larger competitors.
It's a great 7 page read and I always look forward to these PC World tests to see where T-Mobile stands against the competition. While these tests are only good for the 13 cities they are performed in and with the caveat that any of these tests could have been influenced by time of day, network load and weather conditions it's great to see that T-Mobile performed such a turn around year over year and came home with such praise from PC World. Way to go Magenta!