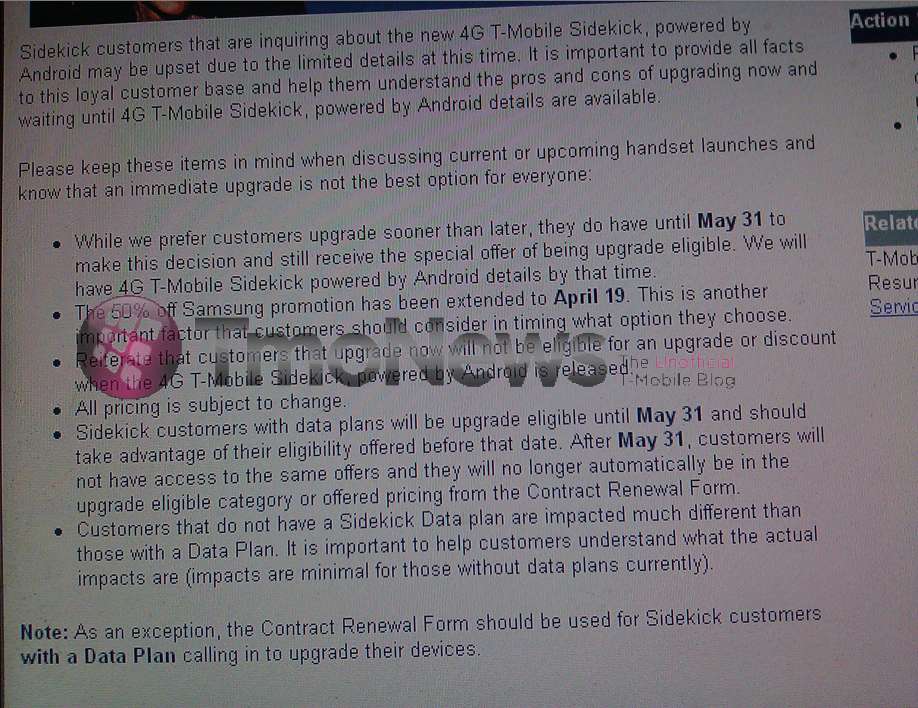 Feeling a little blue about the lack of Sidekick 4G details as of late? Well T-Mobile hears you and wants you to know they are aware of this, especially for current Sidekick customers who are facing a shutdown to their services. T-Mobile is currently offering current Sidekick customers an opportunity to upgrade to newer Samsung equipment at a 50% discount. While this offer was originally available till April 5, 2011, it has since been extended to April 19th, 2011. Unfortunately this offer can't be used on a device that isn't offered and is quite possibly the first device Sidekick users would choose to remain on T-Mobile with.
Sidekick customers are currently set as upgrade eligible until May 31st and yet it's interesting that the timeframe with which customers can upgrade and the timeframe of the Samsung 50% discount offer aren't running concurrently. I digress to not understand that, one would think that they would run concurrently in order to help properly transition customers affected by this change. Then again, customers receiving the notification letters should make preparations to abandon the Sidekick platform as soon as possible.
Either way, the Sidekick 4G is a hotly anticipated T-Mobile device and we wonder what is causing T-Mobile to not release details. Teasers, videos, something, anything other than a sign up page would be really great right now. Until then, we'll try and fill the void as best as we can and look to uncover any details we can find regarding a release date and price. Stay tuned!