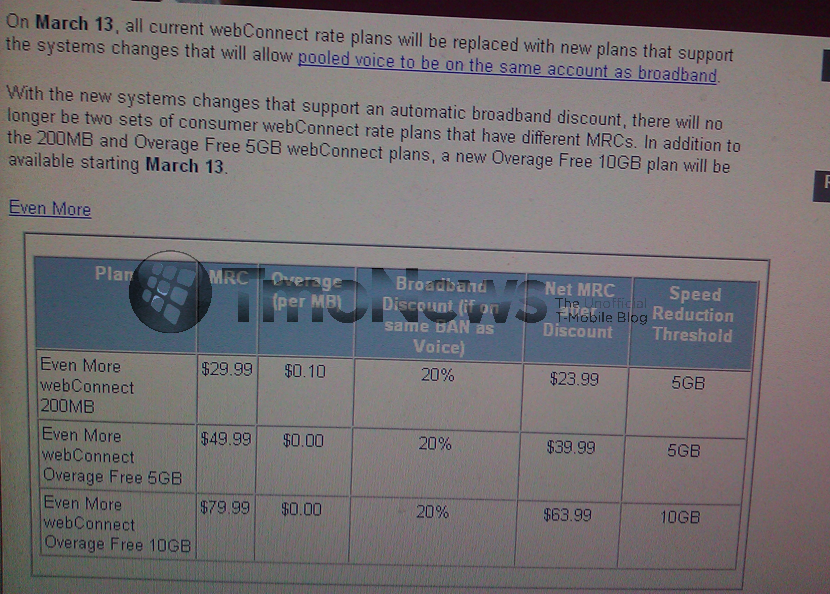 Our report that T-Mobile was preparing to introduce and change their existing data plans were met with both excitement and skepticism. Well, we're excited to introduce, or more appropriately share thanks to one of our ninjas a screen grab showing upcoming webConnect plans that will launch March 13th. Along with the introduction of the new webConnect plans T-Mobile will also introduce system changes that will allow voice and data plans to be pooled and therefore billed on the same account.
Most importantly, T-Mobile will introduce a data plan 10GB that is going to be offered at $79.99. If pooled with a qualifying voice plan, the 10GB plan will cost $63.99 with the 20% discount. The current $49.99 plan offering 5GB will come in at $39.99 and the $29.99 200MB will come in $23.99.
The new 10GB plan is sure to excite T-Mobile customers who are fearful of hitting their 5GB limits every month. With data usage rising every day, the larger the pool of data a wireless company can offer to their customers is most welcome. Nice move T-Mobile, nice move.