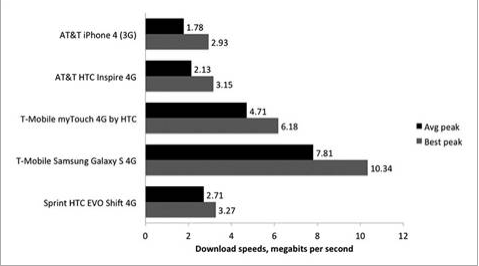 The lucky folks at MSNBC are among the first to get their hands on the upcoming Samsung Galaxy S 4G and they did exactly what we would have hoped for, conducted speed tests. Pairing it up against the myTouch4G, Sprint's Evo Shift 4G, AT&T's Inspire 4G as well as the iPhone 4 even so that device runs solely on the AT&T 3G network.
All speed tests were performed using the Speedtest.net app available for both the Android and iOS platforms. Thankfully, MSNBC performed the test in multiple locations looking for optimal situations where all the phones performed at levels that would be consistent with the speeds that one can reasonably expect in the real world.
So the results? T-Mobile and the Samsung Galaxy S 4G won, and handily. Not only did the Galaxy S 4G outperform all other competitors, the second place phone was another T-Mobile device, the myTouch4G. The good news for Sprint customers is that the AT&T iPhone was beat out by the Sprint Evo Shift 4G. So you got that going for you.
All in all it's an admittedly unscientific test but its indicative of real world results that one can expect when using the phone on a day to day basis.
Check out the full read on MSNBC.com