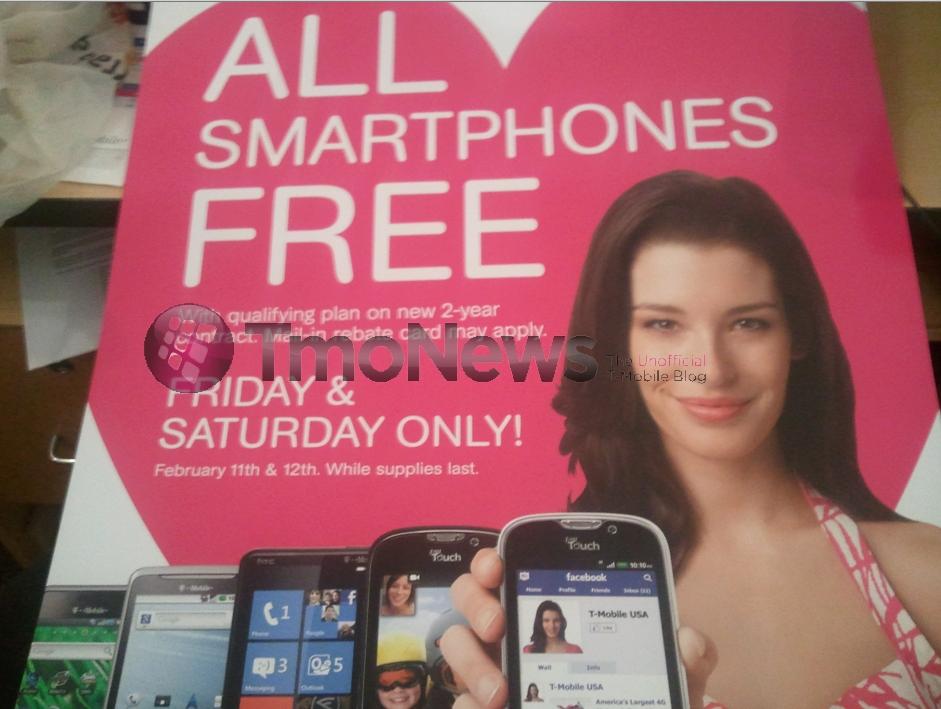 Update: "T-Mobile is sharing the love this Valentine's Day with an amazing offer:  for two days only, on February 11 and February 12, all phones are FREE. This includes our latest smartphones, like the T-Mobile myTouch 4G, T-Mobile G2 with Google, HTC HD7, and Samsung Vibrant. This offer is available in T-Mobile Retail, T-Mobile Premium Retailer, and participating Retail Partner locations only while supplies last, for new customers, upgrades, and add-a-lines with a 2-year contract."
T-Mobile is preparing to host an "All Smartphones Free" sale coming up this weekend, February 11th through the 12th. Comparable to the Father's Day Sale they held last year, we've received the above and below screen show showing the free smartphones will be available on "qualifying plans on new 2-year contracts."
The question that will undoubtedly be on the minds of the existing customer is whether or not this will pertain to them? That's a question we can't answer but given T-Mobile's newfound stamina to ramp up business, we can understand a focus on bringing in new traffic. As soon as we get more details we'll post them right away!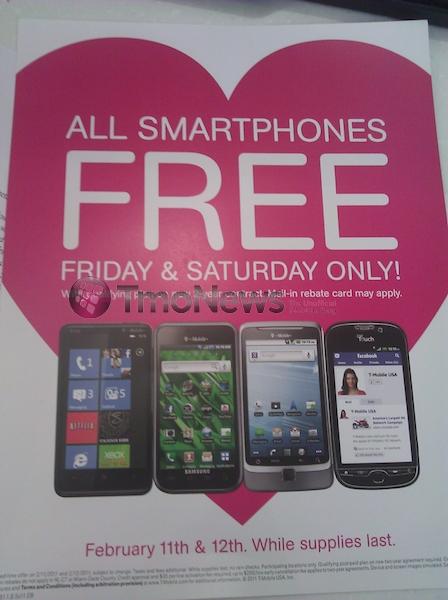 Press Release:
T-Mobile Announces Two-Day All Phones Free Valentine's Promotion, Including Its 4G Smartphones Running on America's Largest 4G Network
On February 11-12, T-Mobile Will Invite America to Feel the Valentine Love with an All Phones Free Offer That Includes Its Latest Smartphones
BELLEVUE, Wash.–(BUSINESS WIRE)–T-Mobile USA, Inc. today announced a Valentine's offer to fall in love with. On Friday, February 11 and Saturday, February 12, all T-Mobile phones, even the fastest 4G smartphones running on America's largest 4G network, will be offered for free at T-Mobile retail stores with qualifying plan on two-year contract. The promotion marks the latest effort by the company to make it easier and more affordable for people to join the data revolution and step up to 4G, enabling them to stay connected with their loved ones not only through voice calls, but also photos, texts, video conferencing, social media updates and more.
"T-Mobile's Valentine's promotion makes it easier for anyone to get their favorite smartphone and keep connected on America's largest 4G network."
To celebrate, T-Mobile has also teamed up with New York Times best-selling author and TV personality Khloé Kardashian to spread the word about how using smartphones is the best way to keep in touch with loved ones and tell them how you feel about them. For a special Valentine's video starring Khloé, visit T-Mobile's YouTube and Facebook page on Wednesday, February 9.
"Smartphones offer people incredible flexibility to stay connected and express their love to the people that matter most," said John Clelland, senior vice president of marketing, T-Mobile USA. "T-Mobile's Valentine's promotion makes it easier for anyone to get their favorite smartphone and keep connected on America's largest 4G network."
With affordable unlimited calling, texting and data plans, T-Mobile is giving its most connected customers options that take advantage of the latest devices. With the Valentine's promotion, consumers can choose from a selection of 30 devices, no phones excluded, including a variety of brands such as HTC, Garmin, Motorola, Nokia and Samsung. All phones will be available while supplies last, so customers are encouraged to arrive early to stores to secure the latest and most popular new devices, including:
T-Mobile® myTouch® 4G
HTC HD7
T-Mobile G2® with Google™
Samsung Vibrant™
Both those in love and those looking for love have two days to get the smartphone they've been eager to get their hands on. For additional promotion details and a list of participating stores, visit T-Mobile online.
Limited-time offer on 2/11/2011 and 2/12/2011. No rain checks. Mail-in rebate card may apply. Participating locations only; see store for details. T-Mobile's HSPA+ 4G network not available everywhere. See coverage details at T-Mobile.com.
About T-Mobile USA, Inc.
Based in Bellevue, Wash., T-Mobile USA, Inc. is the U.S. wireless operation of Deutsche Telekom AG. By the end of the third quarter of 2010, approximately 130 million mobile customers were served by the mobile communication segments of the Deutsche Telekom group — 33.8 million by T-Mobile USA — all via a common technology platform based on GSM and UMTS, the world's most widely-used digital wireless standards. Today, T-Mobile operates America's largest 4G network, and is delivering a compelling 4G experience across a broad lineup of leading devices in more places than competing 4G services. T-Mobile USA's innovative wireless products and services help empower people to connect to those who matter most. Multiple independent research studies continue to rank T-Mobile USA among the highest in numerous regions throughout the U.S. in wireless customer care and call quality. For more information, please visithttp://www.T-Mobile.com. T-Mobile is a federally registered trademark of Deutsche Telekom AG. For further information on Deutsche Telekom, please visit www.telekom.de/investor-relations.