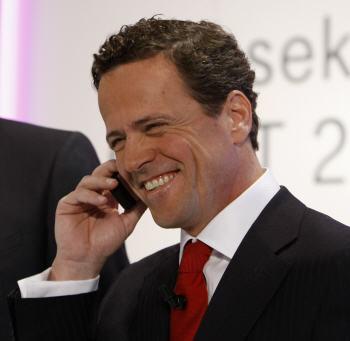 It was just last week that T-Mobile laid out its future plan for turning the company around and taking over the world.  At the head of this wireless world domination plan is Philip Humm, T-Mobile USA's new CEO who has only been on the job for a little over six months.  A significant plan was laid out that could require T-Mobile selling off "non-strategic" assets along with turning the financials around over the next three years and remaining a price competitor.  CNET presses for further answers.
Q: People involved in the standards process say they were surprised when T-Mobile began marketing its HSPA+ network as 4G. What do you say to people who claim that now that T-Mobile and AT&T are calling HSPA+ 4G that it has become a meaningless marketing term?
Humm: I think it is still a meaningful term. The technology definition for 4G has been evolving. And HSPA+ has comparable performance to other technologies that are being called 4G, such as LTE and WiMax. We have worked with the standardization bodies and have submitted HSPA+ to be considered one of the IMT Advanced technologies.
We have clarified that on the technology side that HSPA+ is equivalent in performance to LTE and WiMax. And from a consumer standpoint, it's about a faster and richer experience. And we are delivering that on our 4G network in more places than other carriers. So from a consumer point of view, HSPA+ is a 4G technology.
As part of T-Mobile USA's new strategy you want to make phones and services more affordable. How can you get the costs of phones down below $100?
Humm: The smartphone market is still a young market. The majority of vendors have been pushing iconic devices. But the average consumer doesn't necessarily need an iconic device. What they want is the ability to surf the Web or access social media sites. They want navigation and location services. But what we offer them now are a lot of products that are over-engineered and too expensive for what the average consumer needs. We're looking to offer consumers smartphones that aren't over-engineered and are therefore less expensive.
Does this mean that the basic feature phone is going the way of the dinosaur? Is there even a market anymore for the most basic phones or will all U.S. consumers eventually be buying smartphones?
Humm: I think there is still a need for a pure voice and texting device. But there is also a need for more affordable smartphones. What customers need is a choice. We also need to link these more affordable devices with entry level data plans. So that's why we are offering a $10 data plan. The consumers who would benefit from a more affordable smartphone are also likely not to need a $30 unlimited data plan. There is over-engineering on the service plan too. We need to help customers find the right product and right service for them. It's really about segmenting the market and finding the most appropriate product and service for each subscriber.
T-Mobile is already the price leader with respect to the other nationwide U.S. wireless operators, but as you lower prices even further, do you see T-Mobile initiating a price war to compete?
Humm: No, I don't think there will be a price war as a result of what we do. The market players understand that data has a cost. But there is a need to package data and find the appropriate price for different usage levels.
So what T-Mobile is suggesting is a usage-based model for data pricing?
Humm: Yes.
But you do realize that AT&T has tried to do this with its smartphone pricing and there has been a bit of a backlash. Their wireless subscribers have been upset that the unlimited data service is no longer available.
Humm: We are not talking about getting rid of unlimited plans. We are happy if consumers want to buy everything unlimited. And it's even better if they want the greatest devices and they use those things. But our experience is that the wireless industry tends to oversell customers. And at the end of the day, the customer comes back to us and wants to know why they have to pay another $30 a month on their phone bill for something they don't use that much. Often it's $30 more a month than they can afford. And the phone is too complicated for their needs. So for us, it's really a question of learning to get the right device and the right rate plan to the consumer that makes a difference.
After covering the news of the new Verizon iPhone a couple of weeks ago, it's clear that U.S. wireless consumers are still excited about the iPhone. When do you think T-Mobile will get it?
Humm: The iphone is a great device. But I can't really speculate about that. It's more of a question for Apple.
T-Mobile criticizes the Verizon iPhone in a new advertisement that will come out soon for being on the slower 3G network. If T-Mobile had the opportunity to sell the iPhone, would you require that it operate on the HSPA+ network?
Humm: It's a pity to have an iconic device like the iPhone on a 3G network. It's the flipside of what I talked about earlier regarding the affordable smartphone. Why sell an iconic device on a slow network? You can't use many of the features that make that the devices has at its full extent if you're limited to 3G only.
T-Mobile has strong coverage and presence in urban areas. But once you get out of the large cities, coverage of any kind is spotty at best. What is T-Mobile doing to improve its coverage?
Humm: We have a nationwide network, and we are very strong in urban areas. We don't cover fully the more areas. But our customers can roam onto other networks, such as AT&T whenever they are traveling. So from that point of view there is no risk to a T-Mobile customer who needs to roam when they're outside of our network.
But there are wireless consumers who don't live in T-Mobile areas who would like T-Mobile service. Are you doing anything to improve coverage to address these potential customers?
Humm: Yes, we presented a plan at our analyst conference last week that shows us increasing our footprint. Over the next three years T-Mobile plans to increase our owned coverage of 3G and 4G from 215 million people e to 290 million. This will allow us to reduce our roaming expense and provide a great experience to customers across the country. We are also strengthening our in-home coverage with Wi-Fi. This will also help us reduce the load on the network.
T-Mobile has introduced several Wi-Fi services that were designed to offload some network traffic and improve in-home coverage. But the company has canceled some of those services. What's different now?
Humm: T-Mobile has been a leader in Wi-Fi for a long time. We launched Wi-Fi enabled handsets more than five years that had UMA technology that allowed calls to be handed off from the cellular network to Wi-Fi networks. We've invested a lot of money in this. But we might have been a little early to the market when we introduced some of these services. But now I think the time is right for it. We are evolving the service from UMA to a lighter client on handsets, which can be used a lot easier. And we've already got available on some Android phones. So this is evolving to be something that is seamlessly usable.
Read more: http://news.cnet.com/8301-30686_3-20029413-266.html#ixzz1C3f4m2oX