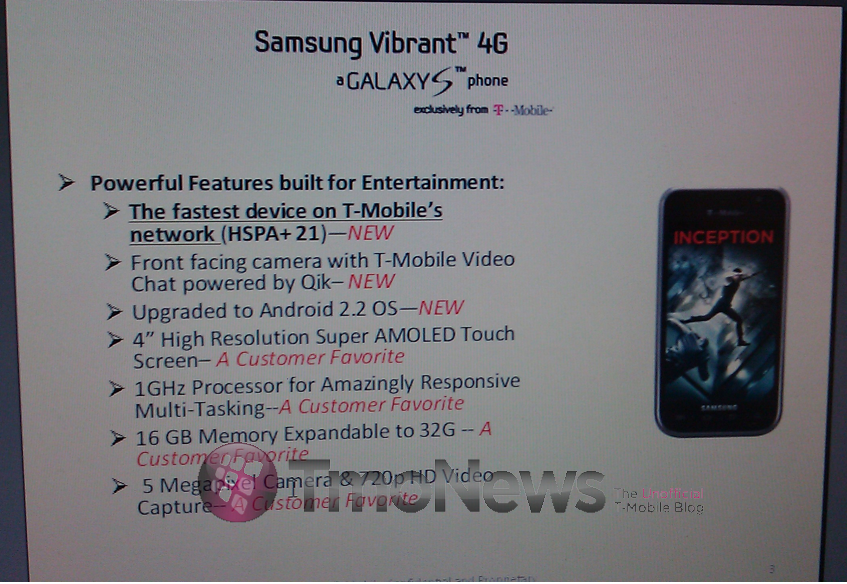 Well, we knew the Samsung Vibrant Plus existed but we didn't know was that it's slated to be T-Mobile's first 4G phone that offers HSPA+ 21 Mbps speeds. Currently, the myTouch4G and T-Mobile G2 offer 4G speeds that are capped at 14.4 Mbps. On top of that, this Samsung Vibrant 4G which will be exclusive to T-Mobile will offer a front facing camera with Qik video services and finally Android 2.2 (at least one Galaxy S phone has it).
Additionally, the Vibrant 4G will receive the "highest level of marketing support from T-Mobile, plus additional support from Samsung's Galaxy S campaign. This includes TV and Cinema advertising among other marketing methods."
This is a nice upgrade to an already decent phone but has Samsung already burned some bridges with the customer base by taking its time with the currently offered Vibrant. If this document is any proof, the Vibrant has sold nearly 1 million units to date and is the #1 selling Galaxy S device across all US carriers. Time will tell if users will scoop this up like they did Vibrant. No release date is posted on this document but we wouldn't be shocked if we saw this one in the not so distant future.